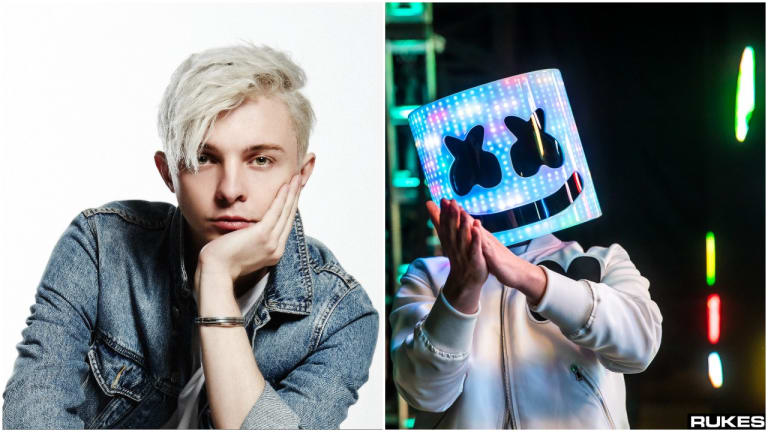 ARTY is Suing Marshmello and Dan Smith of Bastille for Copyright Infringement
ARTY alleges that the melody in "Happier" by Marshmello and Bastille was lifted from his remix of "I Lived" by OneRepublic.
Marshmello can't catch a break lately. Two weeks ago the masked DJ/producer faced backlash from CHVRCHES for his choice in collaborators, only to be called out by Jai Wolf for not publicly speaking out against subsequent death threats received by the band. Now, he's got legal battle with ARTY to worry about as well.
ARTY (real name Artem Stoliarov) is taking Marshmello, Dan Smith of Bastille and Steve Mac to court for allegedly plagiarizing his remix of "I Lived" by OneRepublic. According to TMZ, Stoliarov alleges that 19 of the first 20 notes of the four-bar melody in "Happier" are identical to the one in "I Lived." For comparison, the section begins at 0:49 in the below video for "Happier" and at 1:49 in the one for "I Lived."
Stoliarov also alleges that he and Marshmello are acquaintances being that they've played many of the same festivals and nightclubs, and that the anonymous EDM superstar saw him perform his "I Lived" remix recently at a show. He has enlisted the services of copyright lawyer Richard Busch, who won a precedent-setting case against Robin Thicke and Pharrell for copying Marvin Gaye's "Got To Give It Up" in their 2013 single "Blurred Lines."
Neither ARTY nor Marshmello have publicly commented on the lawsuit at the time of writing.
H/T: EDMTunes
FOLLOW MARSHMELLO:
Facebook: facebook.com/marshmellomusic
Twitter: twitter.com/marshmellomusic
Instagram: instagram.com/marshmellomusic
SoundCloud: soundcloud.com/marshmellomusic
FOLLOW ARTY:
Soundcloud: soundcloud.com/arty_music
Twitter: twitter.com/artymusic
Instagram: instagram.com/artymusic/
Facebook: facebook.com/artymusic