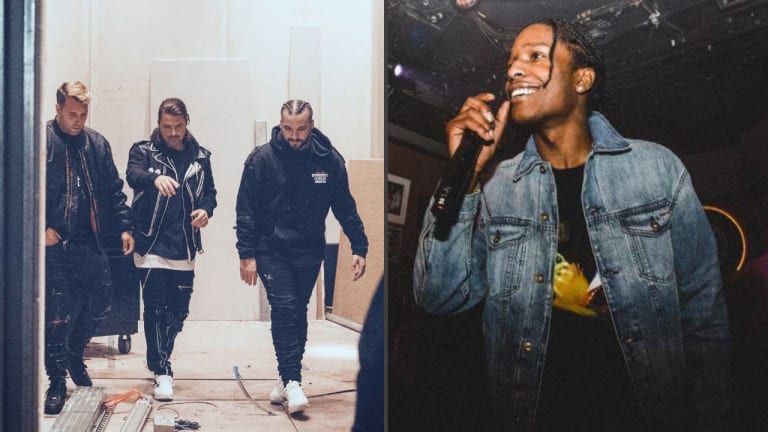 Swedish House Mafia Tease Unreleased A$AP Rocky Collab After News of His Arrest
Swedish House Mafia teased an unreleased collaboration with the recently incarcerated hip-hop artist A$AP Rocky.
Following A$AP Rocky's controversial arrest and detainment in Sweden, Steve Angello and Sebastian Ingrosso of Swedish House Mafia posted a screenshot of an unreleased collaboration with the incarcerated artist on both their personal and group accounts.
The Swedish trio posted the "#JUSTICEFORROCKY" hashtag alongside a screenshot of the unreleased collaboration. Many believe the track is named "Frankenstein," however the screenshots only show a partial title so that cannot be confirmed.
According to TMZ, the conditions of his cell are horrendous. In their own words: 
The rapper is sleeping on a yoga mat with no blankets. There is a prisoner in the next cell with severe mental issues who slams his head against the concrete wall and hurls feces every which way ... feces that are not cleaned up.

The water, we're told, is not clean and the food is not edible ... for the first 5 days A$AP Rocky ate an apple a day, and that's it."
Due to his arrest, A$AP Rocky was forced to cancel his performance at this year's Tomorrowland, the same festival Swedish House Mafia is rumored to play.
At the time of writing, there's no word on the potential release date for the unreleased A$AP Rocky and Swedish House Mafia collaboration or if the track will ever see the light of day.
H/T: Your EDM
FOLLOW SWEDISH HOUSE MAFIA:
Facebook: facebook.com/swedishhousemafia
Twitter: twitter.com/swedishousemfia
Instagram: instagram.com/swedishhousemafia
SoundCloud: soundcloud.com/officialswedishhousemafia
FOLLOW A$AP ROCKY:
Facebook: facebook.com/asaprocky
Twitter: twitter.com/asvpxrocky
Instagram: instagram.com/asaprocky