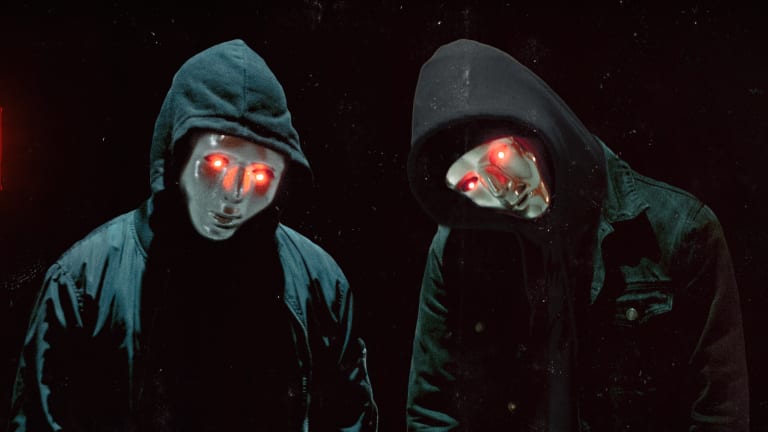 Hekler, Marauda and ATLiens Troll Fans with False Unmasking
The ATLiens remain anonymous.
The world of bass music has one well-known, anonymous DJ/producer duo - and despite what they recently led fans to believe, it will stay that way. ATLiens announced plans to unmask, farcically revealing themselves to be Shaun Bacus, known professionally as Hekler, and Hamish Prasad, who recently rebranded from Mastadon to Marauda.
Yesterday, ATLiens tweeted plans to show their faces later in the evening. When it came time for the big reveal, the video clip showed Bacus and Prasad taking the duo's iconic masks off instead. Artists and fans closely familiar with the duo shared their amusement with the prank in the ensuing replies.
Following years of touring and single releases, ATLiens had released their debut EP, Invasion, in February of last year. Just last month they followed it up with a sophomore effort titled Ghost Planet.
What makes the spoof all the more timely is Prasad's aforementioned rebranding. He presumably made the change to avoid confusion between his brand and the Atlanta metal with which he previously shared a stage name.
Perhaps the troll is a sign of more to come from the three aforementioned acts. They have yet to publicly announce a collaboration of any kind at the time of writing, however.
FOLLOW ATLIENS:
Facebook: facebook.com/ATLiensOfficial
Instagram: instagram.com/atliensofficial
Twitter: twitter.com/ATLiensOfficial
Soundcloud: soundcloud.com/atliens
FOLLOW MARAUDA:
Facebook: facebook.com/maraudamusic
Twitter: twitter.com/mastadontunes
Instagram: instagram.com/mastadonmusic
Follow Hekler:
Facebook: facebook.com/heklermusic
Twitter: twitter.com/heklermusic
Instagram: instagram.com/heklermusic
SoundCloud: soundcloud.com/heklermusic