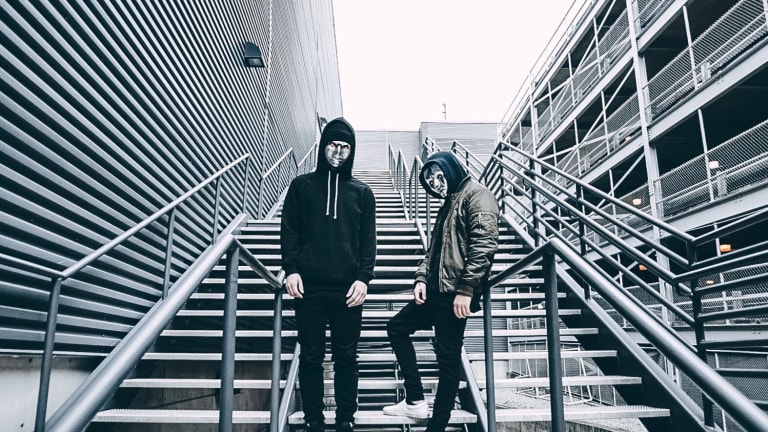 ATLiens Announce Upcoming Invasion Tour [Interview]
With over 20 dates across the U.S. and Canada, be sure to catch this out of this world duo in a city near you!
ATLiens have thrust themselves into the limelight with the success of their 2018 "Invasion EP".  With this rising popularity came a national fanbase eager to experience this duo live.  
We caught up with them at EDC to chat about their fave killer dance moves. Check out the full interview below! 
After teasing a North American Tour the past few weeks, saying "an invasion is coming", ATLiens are proud to finally announce 20+ performances of the Invasion Tour.  Including both festivals and venue shows, this incognito duo plans to bring their bass all the way from Texas to Toronto over the course of 3 months.  Included in the tour are talents including Eliminate, Jameston Thieves, Carbin, G-Rex, YDG, and more.
Speaking about the Invasion Tour, they stated:
"This is just the beginning. We plan on announcing a Phase 2 along with a ton more music, merchandise, and some exciting surprises."
Tickets to the Invasion Tour can be purchased here.  Make sure to check out the tour dates below to see if the bass invasion is headed your way.
06/29 - Marquee - Calgary, AB
07/05 - Coda - Toronto, ON
07/06 - Grasshopper - Ferndale, MI - Tickets
07/07 - VENU Nightclub - Buffalo, NY
07/11 - Foundation Nightclub - Seattle, WA
07/13 - Avalon - Los Angeles, CA - Tickets
07/20 - Envy Nightclub - Edmonton, AB
07/21 - Global Dance Festival - Denver, CO
07/28 - 45 East - Portland, OR
08/03 - OKC Farmers Market - Oklahoma City, OK
08/04 - RBC - Dallas, TX
08/10 - Kingdom - Austin, TX
08/11 - Monarch Theatre - Phoenix, AZ
08/17 - Das Energi Festival - Salt Lake City, UT
08/18 - Celebrities Underground - Vancouver, BC
08/24 - Sound Bar - Chicago, IL 
08/25 - Bluebird Nightclub - Reno, NV
08/31 - Opera Nightclub - Atlanta, GA
09/07 - Dancefestopia - Kansas City, MO
09/08 - U Street Music Hall - Washington DC
Follow ATLiens: