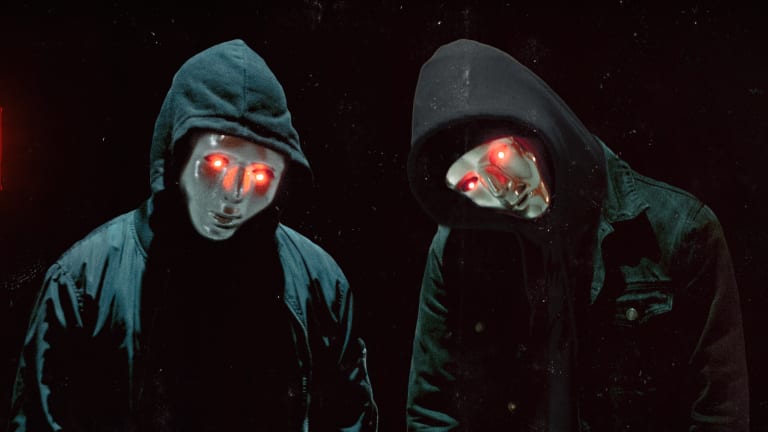 The Rise of ATLiens [Interview]
The mysterious trap duo has just signed with United Talent Agency. So, how will they keep their identities private?
Hot off their Invasion tour, ATLiens have just signed with United Talent Agency - a major step for the bass duo. So, what does it take to build a career while keeping their identities a complete mystery? 
As you can see from our interview this year at Electric Daisy Carnival in Las Vegas, ATLiens prefer to stay strictly anonymous - to the point that we could only ask them "yes" or "no" questions. Hanging out with the two almost feels like meeting someone in witness protection. Getting through airport security is easier than getting into their green room. 
To cap off 2018 in the best way possible, ATLiens signed with Jonathan Griffin, an agent at UTA responsible for booking acts such as Black Tiger Sex Machine, Infected Mushroom, and Space Jesus. Here's what their manager, Griffin Haddrill, had to say on the signing:
"ATLiens & myself are excited to work with UTA. They have set their eye on the prize and accomplished many great things for their clients. I am more than confident we will do the same and then some. We have a great agent, Jonathan Griffin that sees our vision and the bigger picture in play. It's always appreciated to see the other agents at UTA work as a team and see the long-term growth for ATLiens. You can't go wrong when guys like Steve Gordon & Kevin Gimble developed a team and roster that has shifted the tides for the better in dance music."
We also sat down with Griffin this week to ask him how he protects their identities. 
EDM.com: Why remain anonymous?
Griffin Haddrill: It is truly about the fan and music experience. When you come to an ATLiens show, fans are there to experience the music. ATLiens in their own way have a personality, but the human element isn't there. It's about the fans, the music, and ATLiens all coming together to create an atmosphere you don't get at other shows.
How strict is the incognito component?
It's a huge priority for us. At every show or public event, we make sure ATLiens identities are hidden, even if it means going through great lengths to remain incognito.
How do you balance being on tour with remaining anonymous?
It's definitely not easy. I've had plenty of phone calls when they are about to miss a flight telling me that TSA won't let them through security. Luckily, they've never missed a flight but in the heat of the moment those calls are always stressful (laughs).
What are special things you list on your rider to help with this?
A bowl of just red M&M's... kidding. The main thing is just having a conversation with the venue or promoter and talking it through. At the end of the night the whole venue staff feels like it was a team effort to keep ATLiens hidden, so there tends to be a level of camaraderie around it and everyone has a good time.
What are some close calls the team has had?
Ohhh man. I can go on and on, there have been so many close calls. A couple moments that stick out sometimes:
ATLiens will jump into the crowd at some shows and there have been plenty of times when people try and pull the mask off. Hasn't happened yet, but those moments are always scary. 
Another moment was when ATLiens were checking into a hotel and the lady at front desk bought a ticket to see them perform that night. They checked into the hotel and the reservation for the room said "ATLiens." Luckily, they had a tour manager, photographer, and other friends there so she didn't know which one was ATLiens but that was definitely a learning moment to never put a reservation under "ATLiens" (laughs).
Here are a few notable moments from their career:
In 2017, ATLiens released a heavy bass collab with Bassnectar, titled "Interlock", which was a step towards trap music for the dubstep king. They also dropped a track with Jameston Thieves, "Ninth Dimension," and an album of remixes of their track "Alchemy". 
In 2018, ATLiens have exploded in popularity with a huge tour across North America and Asia punctuated by a stellar show in Bangkok on Halloween. The Invasion tour is over, but fans look forward to the next one. In addition to their collaboration with Tynan, their latest joint effort with Badrapper had one of our personal favorite music videos of the year. 
They even had their song "Chief" featured in the Samsung commercial for the Galaxy S9. 
We can't wait to see what is next in store for the unearthly pair, and we're hoping this UTA signing means a lot more shows and festivals! 
FOLLOW ATLIENS: 
Facebook: https://www.facebook.com/ATLiensOfficial/
Twitter: http://twitter.com/atliensofficial/
Instagram: https://www.instagram.com/atliensofficial/
SoundCloud: https://soundcloud.com/atliens