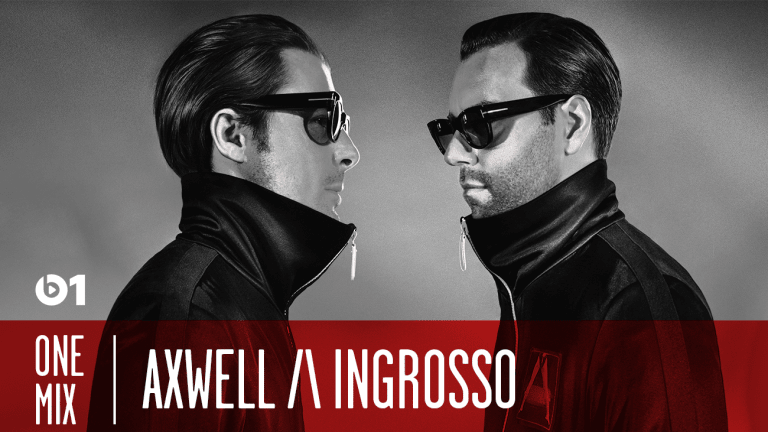 Axwell Λ Ingrosso Talk All Things Music Ahead Of Their Beats 1 One Mix
Their perfect sunset track? Four Tet's remix of Opal by Bicep.
Did you know Axwell was early on inspired mainly by disco and trance? That Ingrosso's first ever show was in a Middle Eastern cafe in Stockholm? That their dream collaborator is Michael Jackson?
The superstar Swedish duo had lots to share with Beats 1 ahead of their One Mix this weekend. Like Diddy coming to their backstages parties before electronic music blew up in America, and turning to Bon Iver for pick-me-up music.
Read on to see what they had to say. And tune into Beats 1 One Mix this weekend for an exclusive mix from Axwell Λ Ingrosso this weekend, packed with smashing summer tunes from the likes of Fisher, Magnificence, Green Velvet and DJ Koze.
Air Date: Friday 17th August 2018 - 21:00 LA / 00:00 NY / 05:00 UK
Tune in here 
First show experience?
Ingrosso: In a Middle Eastern cafe in Stockholm
First time you brought your mom to one of your shows?
Ingrosso: I think my Mom came to that one too.
The artist who inspired you to become a musician?
Axwell: A lot of disco, early trance inspired me. But being Swedish, maybe ABBA.
Go-to places for new music?
Axwell: Spotify for sure
Guilty pleasure record?
Axwell: Boston Bun - Missing You
Ingrosso: Totally Enormous Extinct Dinosaurs - Don't You Forget About Me
Desert-island dance record?
Axwell: Energy 52 - Café del Mar
Ingrosso: Faithless - Insomnia
Dream B2B partner?
Axwell Λ Ingrosso: Each other
Favorite BPM?
Ingrosso: 120
Axwell: 120.1
Piece of gear you always need on the road?
Axwell: Laptop and headphones to make music
Ingrosso: Same, and a toothbrush
Biggest misconception about dance music?
Axwell Λ Ingrosso: That dance music producers aren't some of the most technically talented in the world.
How often do you get out and have fun, and where do you go?
Axwell Λ Ingrosso: All the time, we also have the best job in the world. Summer in Ibiza or Mykonos with family and friends is always special.
City with the most underrated dance scene?
Axwell Λ Ingrosso: Feel like places in Mexico don't get enough attention as they should.
Best piece of advice for new producers?
Axwell Λ Ingrosso: If you can learn to make any sound, then you're truly free to create without any restraints. It's about making it as easy as possible to create.
Dead or alive, who would be your dream collaborator?
Axwell Λ Ingrosso: Michael Jackson
What is one of the unique experiences you've had backstage?
Axwell Λ Ingrosso: 10 years ago Diddy started coming to our parties backstage, before dance music was big in America and that was crazy for us.
What's one track that fans always lose their mind to?
Axwell Λ Ingrosso: 'Greyhound', and more recently 'More Than You Know' actually. When we played Ultra Korea they sang it so loud our ears hurt.
What was the first album you ever bought?
Axwell Λ Ingrosso: Daft Punk - Homework
Name one remix that you think is better than the original?
Axwell: ZZT - ZZafrika (Gesaffelstein Remix)
Ingrosso: Four Tet remix of Opal by Bicep
What song would you want (god forbid) played at your funeral?
Axwell: Probably something by Jon Hopkins
Ingrosso: Maybe Human Nature by Michael Jackson
What's the perfect sunset track?
Axwell Λ Ingrosso: Four Tet remix of Opal by Bicep
What song do you listen to cheer yourself up?
Axwell Λ Ingrosso: Francis & The Lights & Bon Iver - Friends. Amazing song and we can't help but think of the video of them dancing