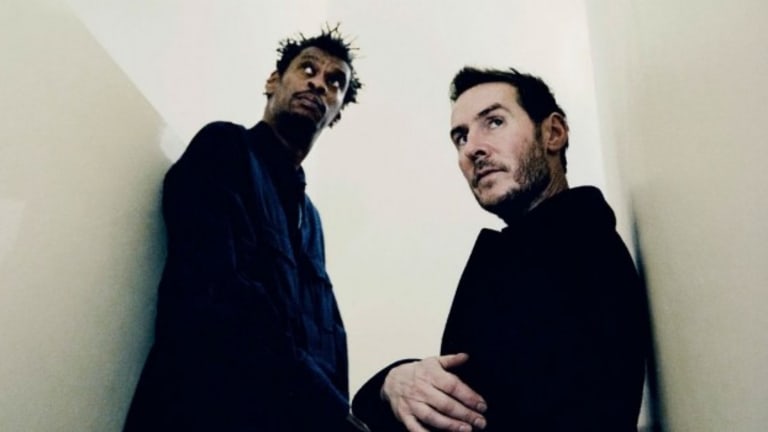 Goldie's Slip of the Tongue may have Revealed the Identity of Banksy
And he would have gotten away with it too if it weren't for you meddling Dj's and your podcasts!
The world may finally know the illusive Banksy's secret identity. For those of you who aren't familiar with the street art behemoth, here is a little background to get you up to speed. The first Banksy pieces started appearing in the 90's and the world has never known just who exactly this Banksy character is. With art in every corner of the world, Banksy is the biggest street artist of all time. Some original Banksy pieces have sold for more than £50,000, and we can only imagine they will become more valuable over time.
Known for their iconic stenciled graffiti pieces, Banksy has tagged cities all over the globe spreading their message. They frequently combine humor with a gritty and realistic look at society. Some of Banksy's common themes include politics, war, technology, greed, and more. Alongside the famous stencil pieces are some larger exhibits like their Dismaland faux-amusement park and the Stonehenge of portable toliets inside Glastonbury Festival.
On the Distraction Pieces podcast hosted by musician Scroobius Pip, iconic English DJ, Goldie may have revealed the identity to the mysterious artist. After making a comment about selling fake Banksy t-shirts, he says:
"No disrespect to Robert, I think he is a brilliant artist. I think he has flipped the world of art over."
The "Robert" he is referring to is may or may not be Massive Attack's Robert Del Naja. The legendary trip-hop group Massive Attack have been pioneers in the genre since the early 90's, and continue to see their tracks played all over the world. Just last year Craig Williams of trasmissionglasgow posted a very convincing article showing the relationship between Massive Attack and Banksy. Some of the reasons include Banksy appearing in Massive Attack videos and album art, Banksy pieces showing up near Massive Attack shows, and more.
With the slip-up from Goldie and some pretty convincing evidence, I think it's safe to say you don't need to wear a tin foil hat to believe there might be something here. Who knows, maybe this is answer the world has been impatiently waiting for, or maybe it's some top-notch guerrilla marketing from Massive Attack. Only time will tell!