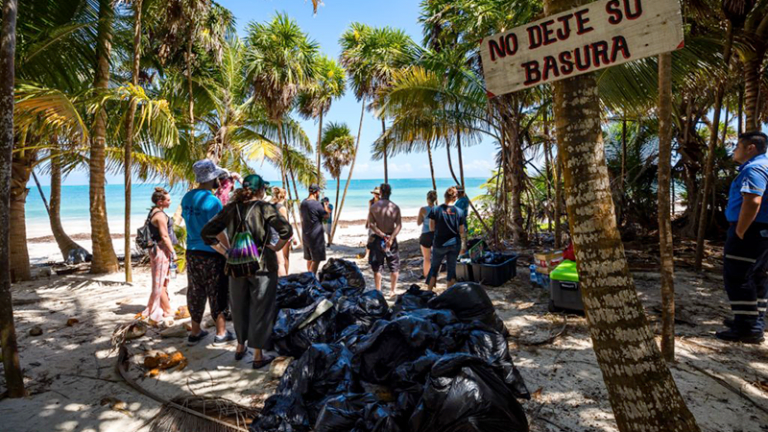 Bassnectar's 'Be Interactive' Charity Cleans Trash and Donates at Deja Voom Festival
The charity cleaned 560 LBS of trash, donated school supplies, and more.
This past weekend at the inaugural Deja Voom festival in the Riviera Maya, Mexico, Bassnectar (real name Lorin Ashton ) and his nonprofit, Be Interactive, asked the local community about the best ways they could do good in the area. They focused on supporting underprivileged elementary students, cleaning up ocean trash, and raising environmental consciousness among the fans who attended Deja Voom.
Locals pointed the Be Interactive team toward the Ki'in Beh School, who serve underprivileged children from ages 5-12. Deja Voom attendees flew in with 94 backpacks to donate items featuring kid-friendly imagery like Black Panther, Disney's Frozen, astronauts, troll dolls, puppies and more. The team also collected several tote boxes full of pencils, crayons, notebooks, and books to engage young readers.
Ocean trash on the local beaches has been recognized as a major problem. Festival attendees and the Be Interactive team came together to clean up over 560 lbs of trash at UNESCO World Heritage Site Sian Ka'an. They took a caravan of vans from the resort and worked to clean up discarded water bottles, shoes, bottle caps, styrofoam and detritus from the fishing industry that washed ashore in this wildlife sanctuary.
The festival also included workshops on climate change activism and other consciousness-raising projects, a major donation drive that raised $18k for music education in Los Angeles with Be Interactive Education Grant recipients, 'Young Producers Group,' and more.
Be Interactive produces social impact initiatives at all Bassnectar produced events, and also funds grants for fans to do good in their local communities each quarter, with themes such as education and LTBGQ+ support.
It must be noted that along with this charity work, controversy has been looming. A disturbing report was released that connected Deja Voom and Odeza's upcoming festival Sundara with complacency and animal-cruelty. Both festivals are held at a hotel that runs inhumane living conditions for it's animals. Following this weekend's festival yet another dolphin has died. 
FOLLOW BASSNECTAR:
Facebook: facebook.com/Bassnectar
Twitter: twitter.com/Bassnectar
Instagram: instagram.com/Bassnectar
SoundCloud: soundcloud.com/bassnectar