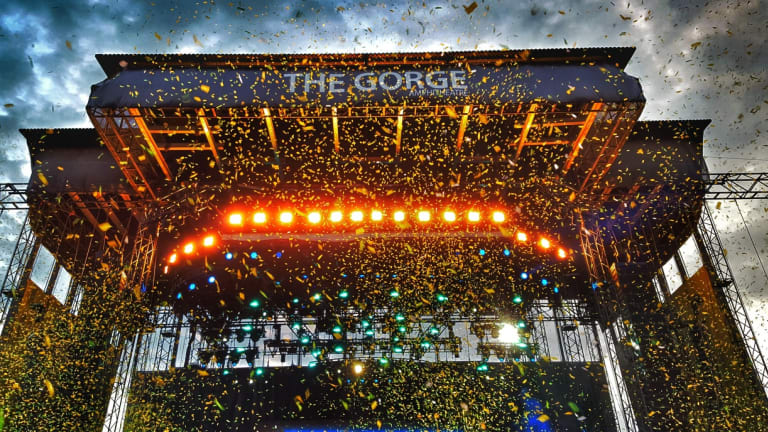 Bassnectar-Headlined End Of The Rainbow Festival Postponed Indefinitely
The festival was postponed due to "unforeseen complications."
End of the Rainbow Festival was to be held May 24th-26th at the Gorge Amphitheatre in George, Washington. According to a statement issued to ticketholders on March 23rd, however, the festival will be "postponed indefinitely with an undetermined date." 
The email ticketholders received read as follows: 
"End of the Rainbow event, planned for Friday, May 24th through Sunday, May 26th at the Gorge Amphitheatre, has been postponed indefinitely with an undetermined date. Your original tickets will not be honored for the new date if rescheduled. 

End of the Rainbow was built on a desire to create a special event for all attendees at The Gorge. Due to unforeseen complications and key artist cancellations, we have been forced to reschedule. We will promptly refund all tickets & shuttle accommodations while we work to schedule a new date. We understand how disappointing and inconvenient this is, but this is not the end of End of the Rainbow. Stay tuned. 

We apologize for any inconvenience this may have caused and have automatically refunded your order, including fees, (except UPS if applicable), which will appear on your credit card within 7 – 10 business days."
In addition to the email, End of the Rainbow's official website is down and all social media accounts have been deleted. 
Boasting a hip-hop-focused lineup, yet headlined by Bassnectar and featuring performances by the likes of Griz, Eprom, Flosstradamus and STS9, End Of The Rainbow was an attractive event for a variety of music fans. Other acts scheduled to perform were Trippie Redd, Lil Uzi Vert, Tom Morello and Young Thug. 
FOLLOW END OF THE RAINBOW:
Website: endoftherainbow-gorge.com
Facebook: facebook.com/eotrgorge
Twitter: twitter.com/eotrgorge
Instagram: instagram.com/eotrgorge