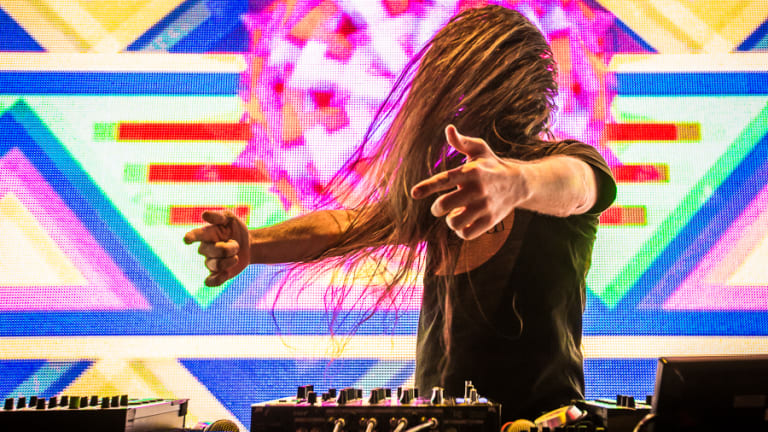 Fans Report Being Struck by Falling Metal Debris at Bassnectar's Freestyle Sessions
Bassnectar had been forced to relocate the last day of Freestyle Sessions Summer Gathering to the Denver Coliseum.
Bassnectar's Freestyle Sessions Summer Gathering experienced unforeseen setbacks last weekend, forcing organizers to cancel the second day of the event. They relocated the third and final day from the 1STBank Center to the Denver Coliseum, and attendees have said that metal fasteners fell on them from the ceiling of the latter venue.
In a conversation with EDM.com, one anonymous Bassnectar fan said that nuts and bolts fell on their shoulder from the ceiling of the coliseum. "My shoulder is actually way worse today," they said two days after the event wrapped up.
Others were more public about their experiences. In addition to the below report of a metal corner brace striking a reveler, numerous members of the group BASSNECTAR FREESTYLE SESSIONS FAM '19 echoed similar experiences. "I definitely got hit with something smack on the fucking head," one attendee wrote. "Hard and metal."
None of the aforementioned attendees have made remarks suggesting that they hold Bassnectar (real name Lorin Ashton) or his team accountable for the falling debris in any way. On the contrary, most said they were grateful that the event organizers had found a way to move forward with the event in spite of the circumstances.
Bassnectar also recently released the Tempo Of Dreams Mixtape, which commemorates the 20-year anniversary of his Dreamtempo mixtape.
Spokespeople on behalf of Bassnectar and the Denver Coliseum were not immediately available for comment.
FOLLOW BASSNECTAR:
Facebook: facebook.com/Bassnectar
Twitter: twitter.com/Bassnectar
Instagram: instagram.com/Bassnectar
SoundCloud: soundcloud.com/bassnectar