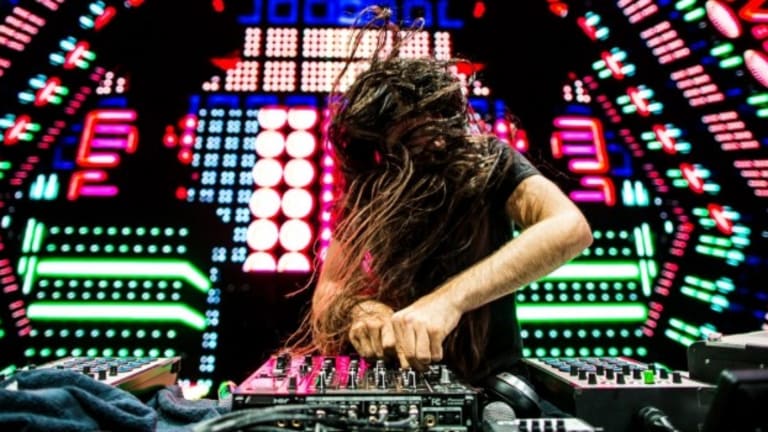 By combining sound and force, the Bassnectar experience engulfs the senses in pretty much every possible way. And anyone from Bassnectar's strong, and even at times, cult-like following would agree.. There's no hesitation in fusing the familiar with the strange, or the classic with the cutting edge when it comes to his music.
Recently a fan wrote in to Lorin Ashton a.k.a. Bassnectar with a simple request to help him sell a ticket to one of his shows since he was afraid the atmosphere would make it difficult for him to stick to his recent sobriety. And the reply that followed was a heartfelt note from Ashton himself. For those who are fans of Bassnectar, this beautiful note was another reason to love and admire this brilliant artist, who has come across as a beautiful human being more than anything else on multiple occasions.

In an atmosphere that has alcohol and drugs intertwined with the electronic music scene almost synonymously, this note highlights the real MVP, the high from the music and the vibe! 

Ashton goes on to tell his fans from personal experiences and reserving any sort of judgement how he feels about the matter stating,
"Without judgements, I just wanted to share my own perspective that while it's an amazing feeling to get high off the music (and 'the vibe') of a live music experience, it by no means needs to go hand-and-hand with drug abuse, or even with taking drugs or drinking. Again without judgements (many thinkers, artists, humans who I love and admire have experimented with drugs – and many have had positive experiences), I shared that from my own experience I prefer a clear head, a healthy body, and a nervous system with heightened sensitivity – I prefer health over 'fun', and while I enjoy the occasional glass of red wine or strong green tea, I never take anything hard."
The experience of Bassnectar show is more visceral than merely auditory, as the music sets the stage for an adventure without rules or limitations. And on that note, he went on to offer the fan a better alternative than having to give the show a miss due to the fear of succumbing to peer pressure and enjoying the show with like minded bass heads who were out there to stay clean and let the music take over! He went on to state in the note about his effort to connect the like-minded fans saying,
"So if you are thinking of attending without drugs or alcohol and want to make a new friend, please email cherish@bassnectar.net and we will put you in touch with other bass heads who have the same attitude and will be there this weekend."
So if you're out there and all about fresh music, fresh bass and only good vibes, you know where to shoot your next mail to find your new partner in crime ~ or NOT in crime shall we say.
Of course this has repeatedly been a sensitive topic to touch on and sure enough a discontented fan went on to comment about how upset he was regarding Ashton in a way being judgemental about the use of recreational drugs, and why it always had to be so black and white when it came to the matter in the industry. But the reply that followed just proved how this note was meant to be exactly NOT that with him clarifying,
"Some things work for one person, and don't for another. Whatever works, keeps you healthy and happy sounds best to me! The point I was making was more for people who DON'T want to get high via a drug, to just encourage them to enjoy getting high off the music and to empower them to connect with others like that. I tried to be very clear that there were no judgements coming from me! I shudder to imagine a world where the Beatles never took LSD… ;)"
This note also brought to light a fan-lead effort which was already out there called Hummingbird - Bassheads for sobriety, a Closed group of a 1000+ which was formed to support exactly this cause. And as one of their admins says if you're all about going to gigs "Clean/sober and elegant but still get nasty" (mainly Bassnectar gigs at that) then you've found a home and a new fam!
So if you agree, take a minute and as the man himself said, let this sink in…
"...take a second of complete gratitude for the magic and magnificence of your body, your nervous system, your ability to see, to read, and their ability to think, breathe, and exist. Your body is the ultimate gift, and I encourage you to cherish it."