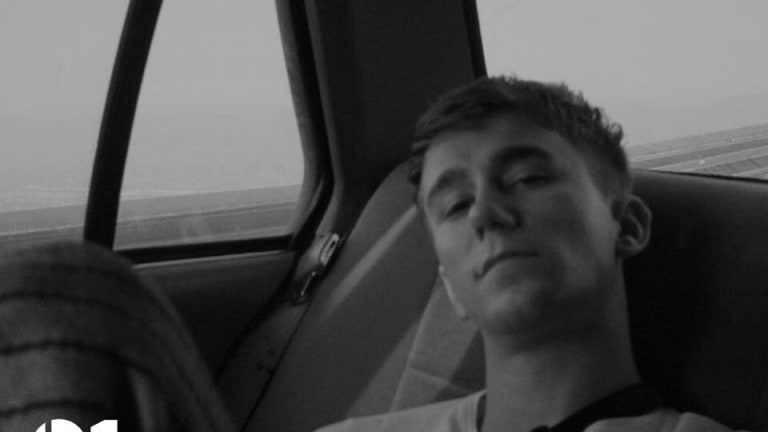 Beats 1 One Mix Hosts UK Producer SG Lewis This Weekend
The producer is known for his moving, moody sounds.
Beats 1's weekly radio show, One Mix, hosts UK producer SG Lewis this weekend for a special mix.
Hailing from Liverpool, SG Lewis is revered for his ethereal emotive sounds, a tasteful blend of electronic and r&b elements. The 23-year-old started off making music in his bedroom, before going to university for sound engineering, evolving music from a hobby to a lifestyle.
He caught Disclosure's attention with a superb remix of Jessie Ware's "You & I (Forever)," and after hearing his debut EP "Shivers," Pharell called him a "white boy with soul."
At the moment, he's working on an album called "Dusk, Dark, Dawn," a play on a night out. Sounds and styles will evolve through the album, just as the night would over time, starting slow and sultry, moving into dark and energetic, and winding down calm and soothing.
The first part of the creative endeavor, "Dusk," was released earlier this month, an eclectic mix of disco, hip hop and electro.
Tune into Beats 1 One Mix this weekend to hear tracks from the EP, other SG Lewis productions, and of course, personal favorites of the artist.

Friday 20th April 2018 - 23:00 LA / 02:00 NY / 07:00 UK
Sunday 22nd April 2018 - 05:00 LA / 08:00 NY / 13:00 UK
We caught up with SG Lewis before the mix. Keep scrolling for insights like his guilty pleasure record, perfect sunset track and favorite throwback track.
EDM.com: First show experience?
SG Lewis: Pendulum @ Wembley Arena (lol)
First time you brought your mom to one of your shows?
Mum & Dad came to one of my DJ sets when I was living in Liverpool. They didn't tell me they were coming, and just stood at the back of the room watching. I didn't think they expected to see what they saw - it was the kind of gig where sweat is dripping off the ceiling, and they had about 5 layers on each haha.
The artist who inspired you to become a musician?
I think it's got to be Pharrell. I saw something about the Neptunes on MTV when I was younger, and that was the first time I was like "That's what I want to do". I wanted to be in the studio every day, creating music, but I didn't wanna be a pop star, or be in a band.
Go-to places for new music?
Phonica Records in Soho is one my favourite record shops. Other than that, the internet is an eternal vortex of new music. Anything from Spotify to YouTube can be the vessel.
Guilty pleasure record?
Ariana Grande - Into You. I don't know what it is about this song, but it does weird things to me.
Desert-island dance record?
Lovebirds - Want You In My Soul - I will never ever get bored of this record.
Dream B2B partner?
Four Tet. His selection is so eclectic - he really plays whatever he feels like playing.
Favorite BPM?
 115 - fast enough to dance, slow enough to groove.
Piece of gear you always need on the road?
 Honestly, as long as I have my laptop I can do most things. A midi keyboard is always helpful too.
All-time favorite festival?
Glastonbury, hands down. Nothing comes close!
Biggest misconception about dance music?
That it can only be listened to on the dance floor.
How often do you get out and have fun, and where do you go?
I'm always going out clubbing, even if I'm on tour. London has so many good clubs, like Phonox, Printworks and Studio Spaces - but anywhere can be great if you're with the right company, and you have the right music.
City with the most underrated dance scene?
Liverpool
Industry prediction for the next year?
Funky House will make a comeback in a commercial sense.
Best piece of advice for new producers?
Trust your gut, and focus less on who's using what plugins.
Dead or alive, who would be your dream collaborator?
Pharrell
A unique travel experience you've had?
I spent a week in Rio De Janeiro, Brazil when we were playing at Rock in Rio festival. We went up into one of the Favelas to a bar called "The Maze" which is where they shot the video for Snoop Dogg - Beautiful. We ate food and drank caipirinha's for hours while the sun set over the favela. It was incredible.
What's your favorite throwback track?
Michael Jackson - Rock With You
What's one track that fans always lose their mind to?
It changes all the time, but Yours always goes off in the live show. More recently though, Aura has been going mad!
What was the first album you ever bought?
N.E.R.D - Fly Or Die
Name one remix that you think is better than the original?
Michael Jackson - Rock With You (Reflex Revision)
What song would you want (god forbid) played at your funeral?
Hall & Oates - Sara Smile
What's the perfect sunset track?
SG Lewis - Sunsets (self promo ahahaha)
What song do you listen to cheer yourself up?
Rex Orange County - Loving Is Easy 
--
Crazy to know Pharell is both his dream collaborator and inspiration and SG Lewis has already received support from the music mogul! Hopefully, the collab comes next.
Oh, and we definitely agree, dance music isn't just for the dancefloor. It's for the soul.