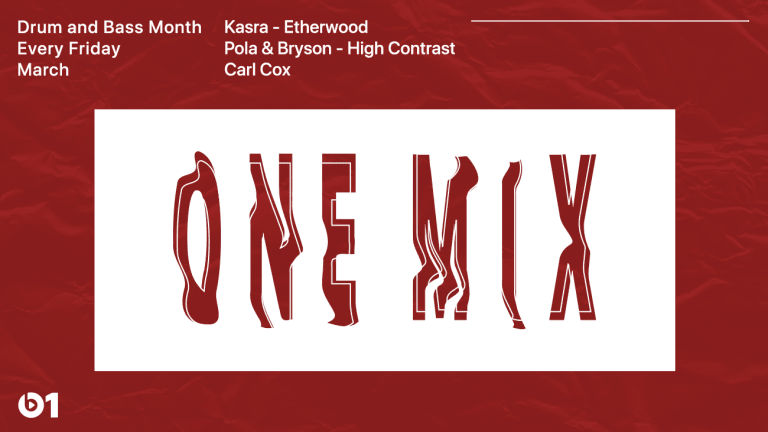 Beats 1 One Mix Brings DnB Duo Pola & Bryson To The Decks This Weekend [INTERVIEW]
The London producers are ready to make their One Mix debut.
Another week, another roaring Drum 'n' Bass mix on Beats 1's weekly radio show, One Mix.
One Mix is celebrating DnB this month. In the past couple of weeks, the radio show has hosted popular DnB artists Etherwood and Kasra. Now, Pola & Bryson are in the mix.
After releasing tunes on prominent labels like Hospital, Liquicity, and Spearhead, the London duo helped launch Soulvent Records, where they released their debut LP, This Time Last Year, an impressive production. Embracing change, they moved on to sign exclusively with Shogun Audio, one of the most renowned DnB labels around.
Tune in to their One Mix to hear what they're all about, as they describe their mix as "Deep Rolling Selection." Expect music from producers like S.P.Y, Technimatic, Break, Mohican Sun, Spectrasoul alongside their own tracks and remixes of artists such as Moby & Blu Mar Ten!

Air Dates:
Friday 16th March 2018 - 23:00 LA / 02:00 NY / 07:00 UK
Sunday 18th March 2018 - 05:00 LA / 08:00 NY / 13:00 UK
Before taking the decks, Pola & Bryson answered a few questions for us, giving a real insight into their musical tastes and experiences along their artistic journey. Read on for their guilty pleasure record, go-to places for new music, dream collaborator, and more.
EDM.com: What was your first show experience?
Pola & Bryson: Hosted our debut EP launch party down at our local pub down in East London, a really nice intimate afair with friends, family and a small number of lovely fans
The first time you brought your mom to one of your shows?
Both our mothers came to the aforementioned EP launch party, they had a great time and it was actually the first time they had a chance to meet one-another which was nice. Harrys mum is very into her music and has come to a few festivals we've played at but Jacks mum hadn't seen him play in a club until she decided to join us on a trip to Prague when we played there last year.
The artist who inspired you to become a musician?
We were both too young to really remember what made us become musicians but the artists who inspired us to specifically make Drum & Bass have to be High Contrast and Dilinja.
Goto places for new music?
Probably other producers within our little circle of friends. We're always on the hunt for new music via Spotify and Soundcloud etc, but most of the best new tracks we hear about are through word of mouth.
Your guilty pleasure record?
Sum 41 - In Too Deep
Desert-island dance record?
London Grammar - If You Wait (Calibre Alternative Remix) - which we don't have but wish we did
Dream B2B partner?
LSB & Calibre (there's 2 of us so we get 2 choices)
Favorite BPM?
173
A piece of gear you always need on the road?
Power Bank, we're very antisocial at airports and there's nothing worse than running out of juice
All-time favorite festival?
Sun & Bass, which we not only had the pleasure of visiting for the first time last year but also played alongside Etherwood, Nu:Logic and S.P.Y!
Biggest misconception about dance music?
Dance music, specifically Drum & Bass has for a while had a stereotype of being very aggressive and dark. We love that stuff, but there's plenty of producers out there making some incredibly soul driven and beautiful music, you just got to know where to look.
How often do you get out and have fun, and where do you go?
Every time we play a show!
City with the most underrated dance scene?
Manchester
Industry prediction for the next year?
We see more artists starting their own labels and more and more US talent get's welcomed into the scene, not only that but Drum and Bass continues to make more of an imprint in the US scene.
Best piece of advice for new producers?
Take what inspires you from all areas of music and combine them to create something unique and always take your time with your compositions yet stay committed if it's something you really want to get good at.
Dead or alive, who would be your dream collaborator?
Jon Hopkins
One of the most unique experiences you'd had backstage? 
We don't tend to spend an awful lot of time backstage. We prefer hanging out in the club watching other DJ's play. For us it's our opportunity to go out and see the DJ's we'd usually spend our weekends seeing regardless, except in this case we get to perform alongside them.
A unique travel experience you'd had? 
We played a show in Birmingham last year, we arrived at the club at around 1am and nothing seemed out of the ordinary. We played our set and headed back to the car at 4am to find a thin layer of snow had settled. We began our 2 hour journey back to London and the snow got heavier and heavier. We had to seek shelter at a service station for a few hours for the sun to come up and hopefully for the visibility to improve, which didn't happen. It got worse and worse, we finally braved the poor conditions and continued our journey home. The icy conditions coupled with the traffic meant that by the time we got home it was 6pm! That was an absolute nightmare!
We'd hate to be stuck in a snowstorm after a show, so we feel their plight! Hope you enjoyed the thoughtful and honest answers from the duo, as we did.
Next Friday, One Mix will host High Contrast for another deep dive into the world of DnB. Stay tuned.
Follow Beats 1:
Website: applemusic.tumblr.com/beats1
Facebook: facebook.com/beats1
Instagram: @beats1official
Twitter: @Beats1
Follow Pola & Bryson:
Website: shogunaudio.co.uk/artists/pola-bryson
Facebook: facebook.com/polabryson/
Instagram: @polabryson
Twitter: @Pola_Bryson