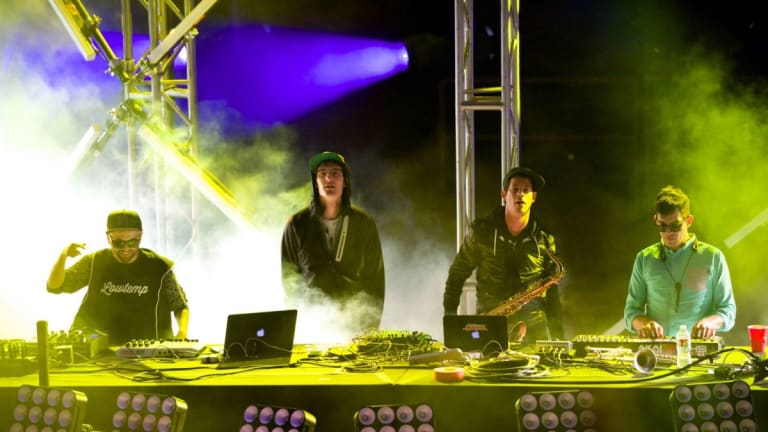 Big Grizmatik Could See a Reunion In 2020
One of EDM's most successful supergroups could see a reunion.
Big Grizmatik, the super group comprised of producer duo Big Gigantic, Gramatik, and GRiZ, may see a comeback in 2020. 
One of the last times Big Grizmatik took the stage was during Big Gigantic's annual Rowdytown show at Red Rocks Amphitheatre back in 2016. The duo brought GRiZ and Gramatik along as surprise guests for the show. The supergroup also played Camp Bisco and Summercamp Music Festival that same year, but have been on hiatus since.
Nonetheless, Big Grizmatik have not forgotten where they started. At Electric Forest 2013, the funk electronic group was born and 2020 could see them reunite at the same festival. 
Big Gigantic quote tweeted a fan suggesting the group play some reunion shows. GRiZ responded suggesting Electric Forest 2020 would be a great place to make it happen. 
Gramatik responded with the famous howling gopher gif. We're going to hope it's to indicate his excitement for the plan as well.
With all its members weighing in, it seems Big Grizmatik could reunite to reign supreme once again in 2020. 
FOLLOW BIG GIGANTIC:
Facebook: facebook.com/pg/BigGigantic
Twitter: twitter.com/BigGigantic
Instagram: instagram.com/BigGigantic
SoundCloud: soundcloud.com/BigGigantic
FOLLOW GRIZ:
Facebook: facebook.com/mynameisgriz
Twitter: twitter.com/griz
Instagram: instagram.com/griz
SoundCloud: soundcloud.com/griz
FOLLOW GRAMATIK:
Facebook: facebook.com/gramatik
Twitter: twitter.com/gramatik
Instagram: instagram.com/gramatik
SoundCloud: soundcloud.com/gramatik