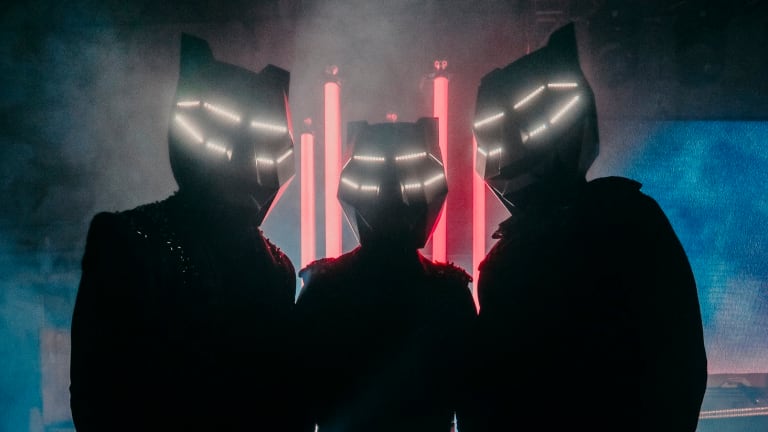 Black Tiger Sex Machine Tour Announcement
BTSM hits the road
Black Tiger Sex Machine just announced they will be heading back on tour this fall. This is following the Ceremony Tour.
Check out a full recap here: 
These three throw down an insanely hard show. They know how to give the people what they want and those who are lucky enough to see the live act are never disappointed. 
We also got to chat with them about their upcoming tour! 
EDM.com: You guys just recently finished the Ceremony Tour, what kind of changes should we be expecting for this upcoming fall?
BTSM: We're bringing our full stage and tour production to cities that were not a part of the Winter/Spring tour. We'll also be redoing the full set - lots of new tracks from friends and our Kannibalen family - as well as reprogramming the lighting and video synchronization.
If you could play at any event/place in the world, where would that be?
We, unfortunately, haven't played Red Rocks yet. That would be magical! Definitely at the top of our list right now.
Love your Futuristic Thriller Mix Part XVII, so filthy. What made you link on to Blade Runner 2049?
All three of us are huge Blade Runner fans. We did the original movie about four years ago, so it felt about time to follow it up with the new one. The story is so deep and fits our sci-fi style perfectly that we couldn't pass up using it in this latest episode.
Your production is next level. After the "New Worlds" album do you hear your sound transforming? Do we have a new album in the horizons soon?
Thanks! We've been working on a few new songs and preparing the next release at the moment. We've already previewed a few tracks in the latest Futuristic Thriller mix, so fans can get a taste of what's to come. In terms of sound transformation, we feel very free to explore whatever styles we'd like. We've never aimed to make hits or follow a specific trend. We enjoy certain genres and love blending different ones together. We're lucky to have a fan base that will follow us through the musical journey! As for an album, we'll see!
Your Kannibalen Label is doing quite well, what does it take to make it on to the roster?
We're extremely happy with the label and everyone on it. This year has been our biggest yet and we have tons of great releases lined up all the way until 2019. For new releases, we look for a mix of solid bass design and strong songwriting. We don't necessarily stick to one genre - but overall we love heavy bass that still has a nice musical vibe to it.
If you had the chance to collab with anyone on your next album who would it be? Who would you want to make a guest appearance at your show?
Boys Noize and Justice would be a dream come true for us as far as collaborations. We'd love to do a Destroid collaboration and have them do a guest appearance with us on stage. Would be some pretty futuristic bass heavy robotic fun!
Finally, how hard is it to see out of those helmets?!
It's a bit tricky, but we've gotten used to it. Basically our range of sight is limited on the side and everything is slightly a bit more blurry. We make it work though ;)
Check out the guys on tour this fall, they will not disappoint. You can grab tickets here. 
Follow Black Tiger Sex Machine here: