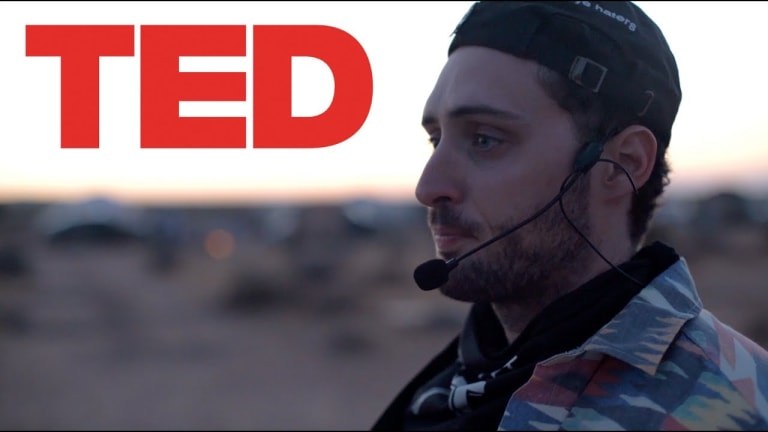 Blake Webber to Give Fake TED Talk on Lost Lands Festival Campgrounds
The Instagram star will perform his infamous "TED Talk" routine at Lost Lands.
If you're familiar with "dope-ass clouds", then you're certainly familiar with the self-proclaimed "Vape God of Instagram", Blake Webber (real name Aristotle Georgeson, formerly known as Blake Vapes). The 30 year old comedian, internet-famous for his character Blake Webber, has been making waves all across social media with his comedy sketches and "#KILLINIT" hashtag. 
The comedian has become so successful that Excision has taken notice, and will be bringing Webber to his music festival, Lost Lands, where Webber will be performing his popular fake TED Talk comedy show. 
Blake Webber's satirical TED Talk comedy shows see the comedian riding around on a hoverboard, sharing "inspirational" messages (he's always "killin' teh game"), and calling out audience members for shoutouts or roasts. The Webber persona is a parody of common social media tropes like celebrating milestone follower numbers, vape videos, and calling out "haters" using misspelled words typed in all capital letters. 
Fans are already ecstatic about the announcement, taking to Instagram to proclaim how "lit" the performance will be. All haters will presumably be called out. 
The comedian's TED Talk show comes to the Lost Lands campgrounds on Friday, September 27th at 2:00 AM. 
FOLLOW BLAKE WEBBER:
Facebook: facebook.com/THEBLAKEWEBBER
Twitter: twitter.com/THEBLAKEWEBBER
Instagram: instagram.com/blakewebber
FOLLOW LOST LANDS:
Facebook: facebook.com/LostLandsMusicFestival
Twitter: twitter.com/lost_lands
Instagram: instagram.com/lostlandsfestival