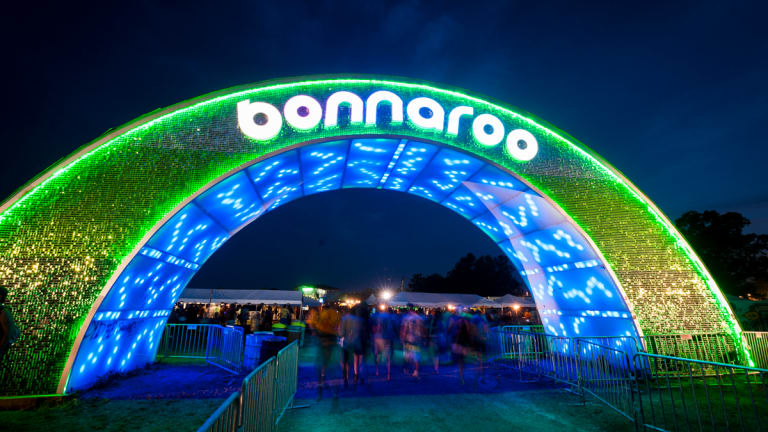 Bonnaroo Arch Incinerated Ahead of 2019 Event
Bonnaroo's arch will be replaced in time for their 2019 edition.
Bonnaroo's organizers said goodbye to the festival's iconic archway which has welcomed festival goers for over ten years. Though we are less than a month out from the Tennessee festival's 2019 kickoff, the arch was intentionally burned due to significant structural issues and will be replaced.
"The structure had aged beyond repair and was no longer safe to remain in place," festival officials shared in a statement to The Tennessean. "Its replacement will be revealed in a few short weeks as we welcome everyone back to The Farm for the 18th annual festival."
The Festive Owl posted a photo of the burning arch to Twitter yesterday. The wooden structure was significantly rotten, and according to fan accounts, was riddled with insect infestation. Given that Bonnaroo has always been known for its sustainability, and was one of the earliest events to work with a solar company to keep things green, it's likely they're taking the right decisions on matters such as safety, sustainability, and carbon footprint.
Luckily, a new structure will soon be greeting fans entering Great Stage Park in just a few short weeks. Check out the evolution of the festival's now former arch below in a post made to Bonnaroo's Twitter account. The festival kicks off starting June 13th with headliners Phish, Post Malone, The Lumineers, and more.
FOLLOW BONNAROO MUSIC & ARTS FESTIVAL:
Facebook: facebook.com/bonnaroo
Twitter: twitter.com/Bonnaroo
Instagram: instagram.com/bonnaroo