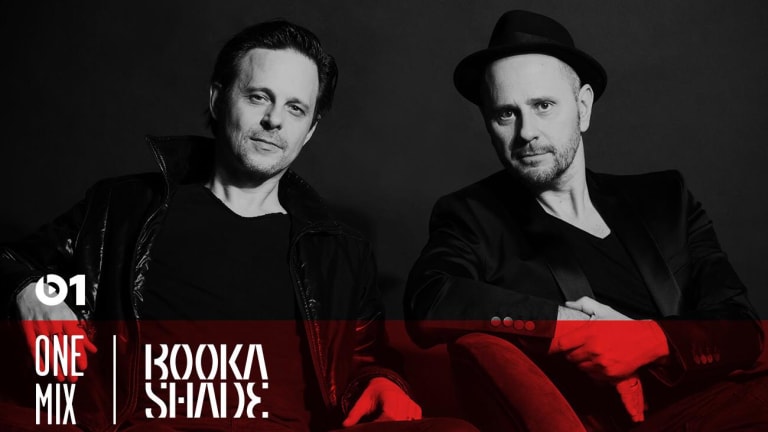 German Duo Booka Shade Takes To Beats 1 One Mix for An Hour Of Atmospheric Club Music [INTERVIEW]
Veterans of modern dance music and champions of minimal tech.
German techno duo Booka Shade has been making music for over 30 years.
Walter Merziger and Arno Kammermeier met in a school band at the age of 15. They both dreamed of a career in music, and their shared vision brought them together.
Growing up in the 80's, the duo was inspired by artists like Kraftwerk and Depeche Mode and fascinated by synthesizers.
In the 90's, they began making techno, slowly developing a style that would truly be theirs.
Though revered for their techno sound, over the years, the duo has experimented a lot. From producing with symphonic orchestras and punk bands to diving into pop music, they never fear to explore their eclectic tastes, regardless of their established sound.
At the core of it, they approach minimal electronic music with an inclination for moody soundscapes and strong songwriting. Nuances in their production reflect their expert ability to craft songs that are stripped down yet evolving and emotive. Booka Shade's sound is brooding and melancholic. Yet, it isn't a sadness to wallow in, but one to reflect on. The duo is commendable for carefully expressing that through their production.
Take a listen to "Body Language," "Nightfalls" and "In White Rooms," a few of their most popular songs.
Recently, they released their ninth studio album, "Cut The Strings." After a distinct stylistic change on their last album, "Galvany Street," Booka Shade's latest LP shifts from a vocal-heavy project to one driven by instrumentals. Back to their roots, Cut The Strings is chock full of minimal club music.
If you haven't heard the album yet, tune into Beats 1's weekly radio, One Mix, this weekend for a special mix by Booka Shade. The mix will feature stand-out selections from their recent album, along with tracks from artists like Butch, Patrice Buamei, Re.You and Black Coffee.
<Tune in here>
Air Dates:
Friday 27th April 2018 - 23:00 LA / 02:00 NY / 07:00 UK
Sunday 28th April 2018 - 06:00 LA / 09:00 NY / 14:00 UK
Before taking the decks, Booka Shade answered a few questions for us. Read on for interesting insights like their guilty pleasure record, biggest misconception about dance music and perfect sunset track.
First show experience?
Watergate Berlin, with multiple computer crashes
First time you brought your mom to one of your shows?
Paris 2006, we placed a chair in the middle of the VIP dancefloor so my dad could sit and watch the show.
The artist who inspired you to become a musician?
Depeche Mode.
Go-to places for new music? 
The clubs in Berlin (not only techno!)
Guilty pleasure record? 
Rhythm of the Night by Corona
Dream B2B partner?
Will Ferell
Favorite BPM?
125
Piece of gear you always need on the road?
Production laptop.
All-time favorite festival?
Coachella.
Biggest misconception about dance music?
To think that it is enough to buy some sample packs on the internet to produce a hit.
Industry prediction for the next year?
Live events keep booming.
Best piece of advice for new producers?
Don't be satisfied to easily, don't give up.
Dead or alive, who would be your dream collaborator?
The late genius David Bowie.
What's your favourite throwback track? 
LFO from LFO
What's one track that fans always lose their mind to? 
Body Language, obviously….
What was the first album you ever bought? 
The single Le Freak by Chic (by accident, I was a kid and wasn't aware I was buying a masterpiece of dance music)
Name one remix that you think is better than the original?
Justice remix of "We Are Your Friends" by Simian Mobile Disco
What song would you want (god forbid) played at your funeral?
The Smiths – There's A Light That Never Goes Out
What's the perfect sunset track? 
Balearic Incarnation (Todd Terje's Extra Døll Mix)
What song do you listen to cheer yourself up? 
Foo Fighters – The Pretender