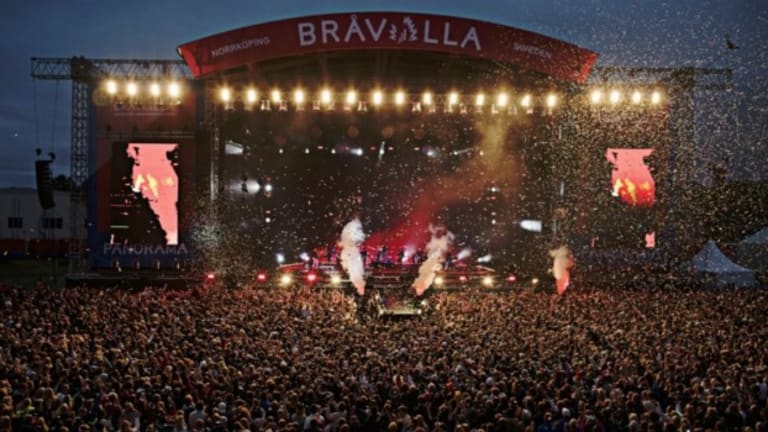 Swedish Multi-Genre Festival Cancels 2018 Edition Amidst Multiple Complaints of Rape & Sexual Assaults
One of Sweden's largest and most popular music festivals,Bravalla Festival, cancels its 2018 edition amidst reported Rape and Sexual assault complaints for second consecutive year.
One of Sweden's biggest and most popular music festivals, Bråvalla Festival, announces that it shall not make its annual return in 2018.
After being marred in controversy for another consecutive year with reported complaints of rape and sexual assaults by attendees at the festival, the organizers have voiced their intolerance and announced the festival will not return in 2018.
For a festival that has seen headliners in the likes of Iron Maiden, Calvin Harris, Kanye West and Green Day in its years since its inception in 2013, Bråvalla Festival was definitely one of Sweden's largest and highly coveted festivals. Hosted in Norrkoping, southern Sweden, Bråvalla used to see tens of thousands of attendees thronging the festival grounds over the span of its 4 days. The festival seemed to be doing extremely well attracting crowds of over 40,000 and names like The Chainsmokers, Alesso and Martin Garrix among many more at their 2017 edition last weekend.
Bråvalla has however had its fair share of woes from pretty much the beginning. In only its second year, in 2014 lightning struck the festival camping grounds causing injury to a few, but resulting in sheer shock and mayhem across the grounds. Following that, the 2016 edition also saw the festival plagued by multiple reports of sexual violence similar to the last edition. Swedish police said at least five cases of rape and 12 sexual assault incidents had been reported at the festival in 2016. And following that up, the officials stated that in the 2017 edition which just ended, they so far have 11 cases of sexual abuse and one rape at the festival grounds that have been reported from July 28th to July 1st.
The Bråvalla festival organizers aren't willing to sacrifice the safety of attendees for entertainment at any cost. In an official statement on their website (roughly translated to english) the music festival stated:
"There are no words for how incredibly sad we are over this, and we want to regret and condemn it to the most serious. It's not okay. We do not accept it at our festival."
Despite making genuine efforts towards the cause, the festival sees a second consecutive year of multiple sexual assaults. Speaking about it they said,
"We have seen it at our and other festivals in recent years and it is a huge social problem that affects every part of our society. Definitely not just festivals. Hundred rapes are committed every day in Sweden and it is a challenge society in general needs to deal with. We are working actively to eradicate the darkness — everyone exposed to crime should receive the support and help they want and need."
However, the festival organizers, FKP Scorpio are clearly not giving up on their fight by cancelling the 2018 edition of Bråvalla and went on to say,
"We will continue to work together for a better world. We hope you are with us in it. Let's take care of each other, choke hatred and violence, and let the music win."
The repeating assaults at festivals have triggered a wider discussion about the problem of sexual violence ― and prompted organizers, local authorities and others to do more to address the issue and to provide a safe space for festival goers.
"The attacks at Bravalla are not isolated incidents, by any means," wrote Kat Stuehrk, an educator with Rape Victim Advocates, in a blog post for Huffington Post last year. "Sexual violence at music festivals and within the broader music community has been an ongoing problem throughout the years, with numerous reported rapes and sexual assaults at festivals throughout the world, and issues with sexual violence at local festivals. The looming threat of sexual violence has turned festivals into unsafe places for many music fans, particularly women."
"It's time for festival organizers, musicians, and music fans to prioritize this issue, and take responsibility for preventing sexual violence at music festivals, so that everyone can have a good time," she went on to say.
Considering this has already been out there and food for thought since years now, it still happened again last weekend, in 2017 and has continued to. What are we going to do about it? What are YOU going to do to help the cause?