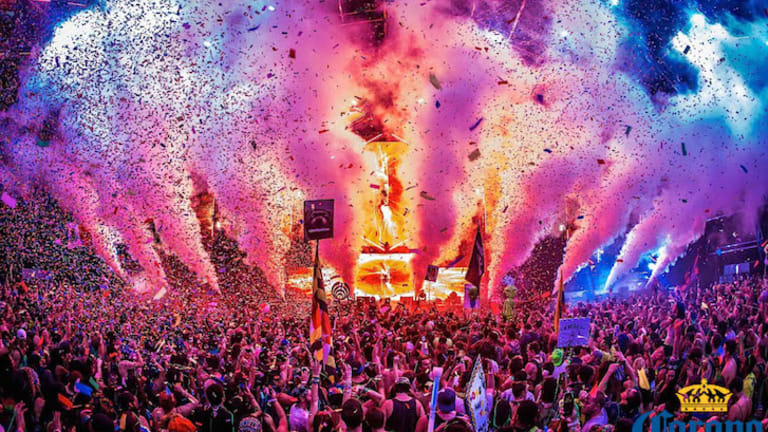 BREAKING: EDC Orlando Stage Evacuated Due to Fire
EDC Orlando's kineticFIELD stage has been evacuated due to a fire.
UPDATE: As of 8:07 PM EST, the kineticFIELD stage at EDC Orlando has resumed operations. 
UPDATE: As of 8:33 PM EST, Insomniac Events has issued the following statement:

"There was a small fire at the kineticFIELD stage, which was fully contained and extinguished by the fire department within minutes. No employees or attendees at EDC Orlando were injured. Music on the stage has resumed and performances will continue as scheduled."
Unforeseen circumstances have led to the shutdown of a stage at the 2018 edition of EDC Orlando. Sources have informed EDM.com that a fire has forced the festival's organizers to evacuate the kineticFIELD stage until further notice.
The announcement was made shortly after Kayzo took to the stage around 7:00 PM EST. The screens on either side of the stage displayed the message: "THIS STAGE MUST BE SHUT DOWN TEMPORARILY / PLEASE CLEAR THE AREA WHILE WE WORK TO RESOLVE THE ISSUE / THANK YOU FOR YOUR PATIENCE."
EDC Orlando takes place on Tinker Field in Orlando, Florida. It began yesterday, November 9th and will wrap up around midnight tonight, November 10th.
No statement has been issued in regards to the evacuation on any of EDC Orlando's social media accounts. EDM.com has reached out to Insomniac Events for comment but they have not responded at the time of writing.
FOLLOW EDC ORLANDO:
Facebook: https://www.facebook.com/ElectricDaisyCarnivalOrlando/
Twitter: https://twitter.com/EDC_Orlando
Instagram: https://www.instagram.com/edc_orlando/
Website: https://orlando.electricdaisycarnival.com
FOLLOW INSOMNIAC EVENTS:
Facebook: https://www.facebook.com/insomniacevents
Twitter: https://twitter.com/insomniacevents
Instagram: https://www.instagram.com/insomniacevents/
Website: https://www.insomniac.com