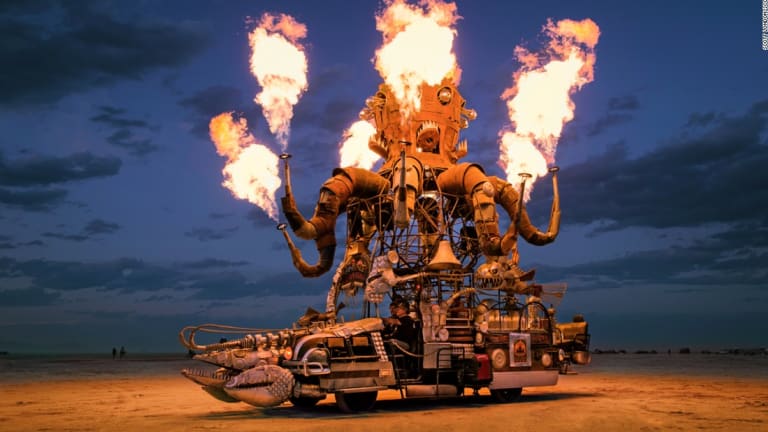 Bringing a small piece of the Playa to those of us who haven't yet been able to make it out to Burning Man, The Smithsonian just announced one of its largest exhibits aptly named, "No Spectators: The Art Of Burning Man." 
Fitting to the ideologies of how no one at Burning Man is welcome as a mere spectator, everyone is expected to engage and be one with the community of around 70,000 strong each year. The engagement of each member of the community builds into a way of life for everyone present for one week in the year. Annually, Black Rock City in Nevada, comes to life and literally rises from nothing but dust and transforms into a way of life oozing creativity and inclusiveness. 
Although music has become a component of Burning Man, more so the pieces of art that come to life during the festival are the most breathtaking attractions. Most of these stunning pieces do not live to see the light of day after the festival, as they are ceremoniously burnt to the ground as Black Rock City reduces back to nothing but an expanse of white sand. But luckily, not all of them are lost at the end of the gathering, and now some of the most spectacular pieces of art are going to be on display at The Smithsonian. This way, everyone can get a taste of the outbursts of creativity that Burning Man, one of the most influential gatherings of art and culture inspires. 
Being one of the largest exhibitions to be held here. No Spectators: The Art Of Burning Man takes over not just the entire Renwick Gallery building but also its surrounding neighborhood, bringing alive the culture and creative spirit of this cultural movement that is, Burning Man. 
Best explained as by the official Smithsonian website, "No Spectators: The Art of Burning Man is the first major exhibition to present the large-scale, participatory work that is the hallmark of this annual gathering, exploring Burning Man's philosophies of radical self-expression, community participation, rejection of commodification and reverence for the handmade."
The exhibit is an effort to bring alive the maker culture of Burning Man through artworks, room-sized installations, jewelry, costumes and ephemera with the aim to transport visitors to the gathering's famed desert location, the "playa." 
The exhibition will include works by David Best, Candy Chang, Marco Cochrane, Five Ton Crane, FoldHaus Collective, Michael Garlington and Natalia Bertotti, Hybycozo, Aaron Taylor Kuffner, Christopher Schardt, Leo Villareal, Richard Wilks and others. Several installations were featured at previous Burning Man events, while installations by Best, Garlington and Bertotti and Five Ton Crane were commissioned specifically for the Renwick's presentation and will debut in the exhibition.
The exhibition as a whole will run until September 16, 2018 and part of the exhibition will carry on to run into 2019 and wrap up on January 21, 2019!
H/T: Dancing Astronaut