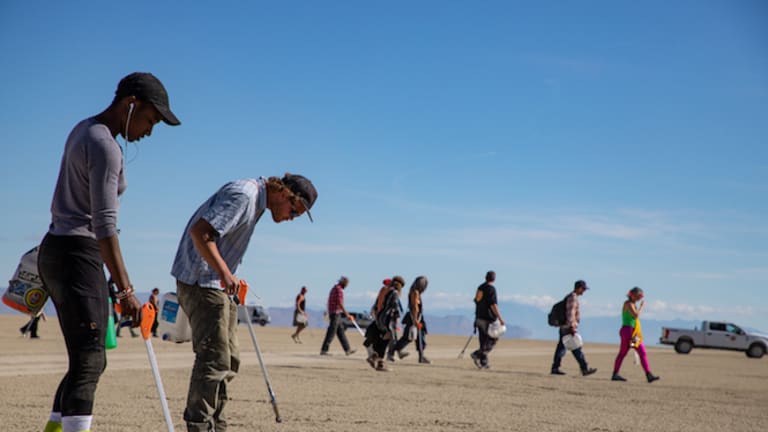 Burning Man Delivers "Greenest MOOP Map to Date" Following BLM Inspection
The largest "Leave No Trace" event executed a record-setting cleanup.
There is truly no event like Burning Man. Once a year, upwards of 80,000 participants make the pilgrimage out to the Black Rock Desert to create a temporary metropolis dedicated to community, art, self-expression, and self-reliance. 
One of the key principles of attending the event is its "Leave No Trace" ethos. It's become the largest event in the world to adopt such a stringent approach. Since 1999, Black Rock City has passed every inspection held by the Bureau of Land Management (BLM). The 2019 edition proved to be the best year yet. 
One major point to note is there are no trash cans at Burning Man. It is up to the participants to remove their own garbage from the playa. The point is to leave the barren land exactly as is. Each year post-event the BLM comes in to begin the inspection in order for the following years Burning Man to go on as scheduled. The site must not exceed an average of one square foot of debris per acre. 
In charge of insuring success, the Playa Restoration Team (A.K.A. The Test Team) took to the site to scour the 156 million square feet of land during the inch-by-inch cleanup. They record their efforts using something called a MOOP (Matter out of Place) Map. Everything that wasn't on or of the Black Rock Desert, no matter the size, is considered to be MOOP and must be removed. 
The extreme weather caused not only delays but dwindling volunteer numbers, fatigue, and tiring morale. However, in the end, the team came out victorious. The MOOP Map came out green, the color of success. On October 5th, 88 members of the restoration team worked alongside BLM representatives in 11 teams to undertake the testing. On October 15th, the results were in and Black Rock City had passed all but one of the 120 test sites, making this the greenest map to date. 
After passing with flying colors, Burning Man is now ready to take 2020 on with the new theme of "Multiverse." Join in on the festivities and help continue on the environmental legacy August 30th through September 7th next year. 
H/T: Burning Man Journal  
FOLLOW BURNING MAN:
Facebook: facebook.com/burningman
Twitter: twitter.com/burningman
Instagram: instagram.com/burningman
Website: burningman.org