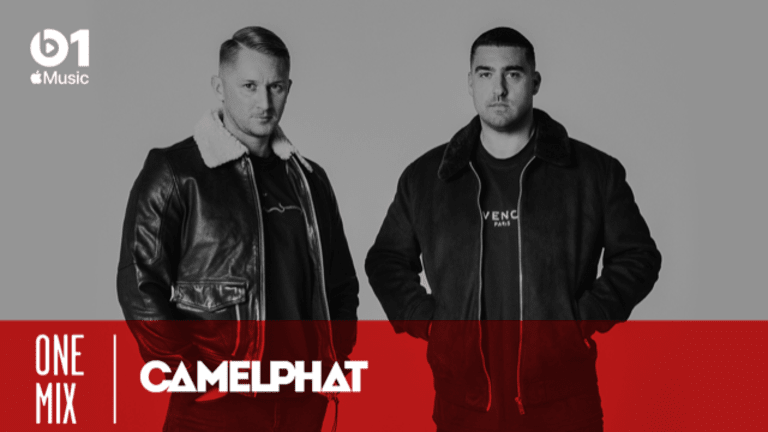 CamelPhat Talk Debut Album, Dream Collabs & Signature Sound With Zane Lowe
The Grammy nominated duo talks all things dance music.
CamelPhat (real names Mike Di Scala and Dave Whelan) is one of the hottest duos in dance music right now. From the dark, sultry (and Grammy-nominated) "Cola" to the deep, rolling "Breathe" to the smooth, melodic "Panic Room," CamelPhat's releases all have a distinct feel.
The UK duo recently spoke all things music with Zane Lowe on Apple Music's Beats 1 from their Hï Ibiza residency. Plus, they recorded an exclusive one-hour mix on Beats 1 One Mix, with tunes from Cristoph, Josh Wink, ARTBAT, Adana Twins, and more.
Listen to their One Mix here.
Watch CamelPhat discuss their upcoming debut album, dream collaborations, signature sound, and more below.
For those who prefer reading rather than watching, scroll on for snippets from CamelPhat's chat with Zane Lowe.
On their residency at Hï Ibiza:
CamelPhat: "I think for us at the moment, we're getting to break a lot of new music and what a perfect place to do it. I just think there's something for everyone. It doesn't matter how old you are. Doesn't matter what music you're into. Even if you're not into music. I think it's got something that offers everybody. "
On how they met:
"Mike was working in a bar midweek. I'd go and see him. I'd be working weekends, whatever, we just started bouncing off each other. Eventually got like some kind of makeshift studio in the city center. as much as we wanted to be international artists, it was more of a local thing. It'd be like, let's make a track that we can play in a bar that holds like 60 people. More home town glory at first. And that's your first step, you want to be big in your city."
On working towards an album:
"I personally feel like we've got to the point now where we're making so many records that I keep connecting and going to a list on various radio stations, and dance floor worldwide. So when they're crossing over like that, it's only a matter of time before you need to bag them all up and put them on one album, you know what I mean? And build a body of work. So for us, that's like our next destination, that's we're into now. That's everything that we're doing now, is towards this album."
On who they want to collaborate with and how many records they have done so far:
"Yeah, it's kind of come to a point at the moment, because it's the summer and we haven't had any time to actually sit down and go "all right, what's next with regard to the future of writing?" Because it's just been nonstop on the roads since May,
Maybe like 25 records. Probably 9 are good enough. Nine solid. But we're just going to keep making them and making them, you know what I mean? There's a million backing tracks that we've done. We have a million more. We are doing another writing camp now, like October time, so there will be some hit list, we'll be reaching to RCA, the label, and we'll be asking can we get with these? Can we make this happen? Are these free? It is a bit more. It feels a bit easier, like from what it was previously. Because it was just hit and hope, whereas now it feels like we can actually identify a target as such and say. "
"Just people I think like Jessie Ware is an interesting one. Hannah from London Grammar. She's like another amazing vocalist we'd love to work with. The xx as well. We're just absolutely obsessed by The xx, every album they've ever done, whether it be Romy or Jamie xx, but that I would love to like get in together and see what we can. There's a few more, like left field, I suppose, vocalists. Even from the '80s and things like that, you know what I mean? People you wouldn't think of anymore."
On how they landed on their sound:
"I think we've always led towards the progressive side of house. Since we've ever started, it's always been. More melodic as well. Personal, it's always been a personal thing. There's never been an avenue to do until "Cola" came along. And "Panic Room", I think it's opened a lot of doors. And now a lot of producers are now like happy and more confident to go with the progressive sound because it was a confidence thing. A lot of people, although they loved it, probably frowned upon it, thinking "I could never get away with that in my set." Or "it's not banging enough." We just went away thinking, you know, that writing camp had paid off because of this one particular record. We didn't have a clue where it was ever going to go. We just knew we had a vibe."
On who they consider a peer that's making great house music:
"R Boss. Going to collab with them as well which is potentially is an album track."
On who else playing on Hï Ibiza this summer:
"Cristoph. Cristoph's another amazing producer. We've done "Breathe" with him too and he's very talented. We actually made "Breathe" in the Mambo studios. With strawberry daiquiris. That was the case. Strawberry daiquiris and "Breathe" on the other side."
On the remix with Calvin Harris:
"It was hard to do. You don't want to ruin obviously a perfect track that blew up worldwide. Everyone knows that track and knows Calvin Harris because of that track. So you're trying to be respectful when you're doing a remix like that, and I mean - it's just enough - well, we were like, "oh, do we put the synth in?" We put it in. And you know what, you just have to put it in. Well, we've got to go through them motions, you know what I mean? It ends up in there anyway."
On the album coming in March 2020:
It's ranging from 90 BPM to like 140. Well, that's what we wanted to do. We wanted to make a point that we're producers, not just DJs and musicians. And hopefully the music and the album will preview as to what we're capable of, rather than just four to the floor all the time. I think it'll be early next year, March. We're selling out the shows. That's sort of a hype there at the moment. And then, obviously, early next year that'll kick again.
On working with Jake Bugg and wanting to produce Arctic Monkeys:
I think we've developed a patience now with the audience as they're willing to listen. Obviously when you bring Jake Bugg on a record, we got a lot of backchat on the socials, and people hadn't even heard the record. And it was like, we're in the studio with Jake Bugg, and people were like, "What's going on?" And now it's ended up we're actually producing records for Jake's album. We've actually done records for him. They're not for us, they're for him. And again, it's literally in the band record. It was unbelievable. To be fair, I think I've always wanted to be a bit of a rock star, like frontman, and it just hasn't worked out, so I'm living through Jake Bugg. 
Maybe the Arctic Monkeys, something like that would be crazy. Get in with them. A good northern band, like up north with ourselves. Maybe we put a bit more melody, melodic sounds and stuff into the pace and the rhythm that they've got. Becaus their drums are amazing.
On life since "Cola":
"Yeah, it's been a whirlwind. To be fair, we're actually doing most of it on the road, on the planes, in the hotel rooms. We're all right actually making music on the road. If you actually take the vocal away, 'Cola' is a very dark record if you listen to it. That's why we made it because we'd made so much tech house trying to fit in with everyone within the genre of like, and trying to get gigs as well at the same time. I'm wondering, "what do we need to do?" We actually went, 'you know what, let's just start again, rip the textbook up, the manual, whatever. And let's just make something that doesn't sound like anything else out there.'"
On "Panic Room":
"It started off out as a remix at first. The original track was already done by order, and we got asked to the remix, and then the label loved it and they were like, "do you want to do it as a collab?" And we were like, "Yeah, go us. Right on." It actually took a lot of pressure off us, because everyone was asking for the next "Cola", and then obviously when you're going into the studio to make a remix, you're not thinking original music, and it ends up being an original track, so it just took a massive weight off of us and give us a lot of time to then think what was next."
H/T: Zane Lowe on Apple Music's Beats 1. 
Note: Interview snippets have been condensed for clarity.
FOLLOW CAMELPHAT:
Facebook: facebook.com/CamelPhat
Instagram: @camelphatmusic
Twitter: @CamelPhat
SoundCloud: soundcloud.com/CAMELPHAT