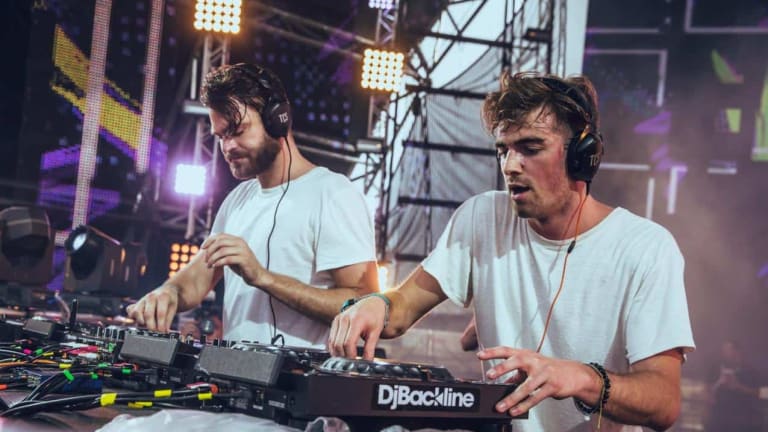 The Chainsmokers, Marshmello, and Calvin Harris Make Forbes' Highest-Paid Entertainers List for 2019
These three were the only EDM acts to make it on the list
Every year, Forbes debuts its list of "100 Highest-Paid Entertainers" in the world. The feature gives us common folk a look into the extreme wealth these entertainers rack up throughout the year. The minimum required to be eligible for the list this year was $37.5 million, "up 7% from a year ago, as the world's 100 highest-paid superstars clocked $6.3 billion in pretax earnings over the past 12 months," as explained in the piece. The two top spots were lead by Taylor Swift ($185 million) and Kylie Jenner ($170 million).
2019 proved to be an extremely successful year for three acts in the EDM community. The Chainsmokers, Marshmello, and Calvin Harris joined the ranks of elite actors, athletes, musicians, personalities, authors, comedians, and magicians. 
The Chainsmokers led the DJ pack at #67 on the list whopping it at a massive $46 million a year. This should come to no surprise with their impressive tour schedule and steady stream of hits. They're even coming out with a documentary to share their journey to stardom.
Marshmello comes in at a close second at #87 with $40 million a year. He too has been shelling out hits all year and holds a two-year residency at the new Kaos Nightclub in Las Vegas that's worth $60 million. 
Calvin Harris traditionally tops the lists for highest-earning DJs, and on this list he has come in at #35 at $38.5 million a year. He hasn't been producing and touring outside his Vegas residencies.
See the full list here.
FOLLOW THE CHAINSMOKERS:
Facebook: facebook.com/thechainsmokers
Twitter: twitter.com/TheChainsmokers
Instagram: instagram.com/thechainsmokers
SoundCloud: soundcloud.com/thechainsmokers
FOLLOW MARSHMELLO:
Facebook: facebook.com/marshmellomusic
Twitter: twitter.com/marshmellomusic
Instagram: instagram.com/marshmellomusic
SoundCloud: soundcloud.com/marshmellomusic
FOLLOW CALVIN HARRIS:
Facebook: facebook.com/pg/calvinharris
Twitter: twitter.com/CalvinHarris
Instagram: instagram.com/calvinharris
SoundCloud: soundcloud.com/calvinharris