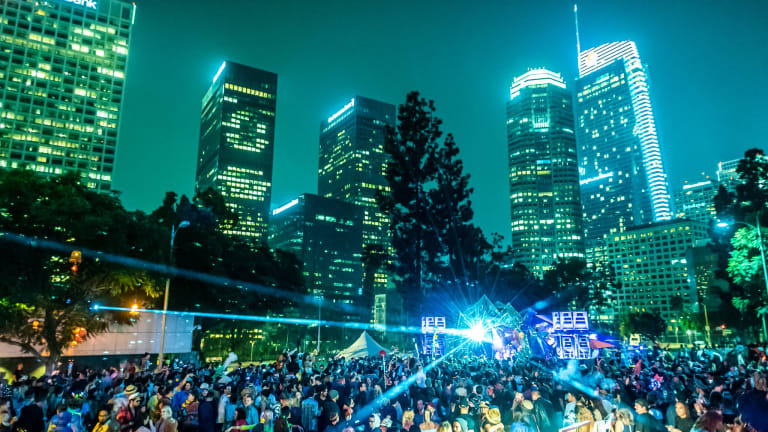 Desert Hearts' Urban Offshoot City Hearts to Expand to Two Days in Downtown L.A.
The L.A. spinoff event will include names like Tiga, Patrick Topping, Rybo, and Rinzen.
Armed with an embracing message of love and inclusivity alongside great house and techno beats, Desert Hearts continues to emerge as one of Southern California's must-attend festivals. 
The transformative event is held every spring in the rural SoCal mountainside and is spearheaded by Mikey Lion, Marbs, Porky, and Lee Reynolds. The nearly decade-old gathering has gained a fashion-forward fan base who are guided by the festival's mantra, "House, Techno, & Love… We are all Desert Hearts."
What started as a renegade in the edges of the Mojave Desert has now grown to not only a full-blown multi-day festival, but a record label, a new sublabel (Desert Hearts Black), and an offshoot festival, City Hearts.
The spinoff event is a more accessible gathering, catering to urbanites who may find it difficult to attend the flagship function in the outskirts of suburban SoCal. Having found its way across major cities in the U.S., the party returns to Los Angeles the weekend of November 9th and 10th, expanding to two days for the first time.
Situated in the historic Father Serra Park, the two-day affair will take advantage of its location in the city's old El Pueblo District, where the original township of Los Angeles was founded. The park is across the street from L.A.'s Union Station, the hub of Southern California's public transportation system, making it reachable to travelers from afar.
City Hearts attendees can expect the oddities and colorful amenities that make the festival a truly immersive experience. Included are art installations to live paintings to food vendors and, of course a great roster of artists. Names like Tiga, Patrick Topping, Doc Martin, Lubelski, Wyatt Marshall, Rinzen, and Rybo will showcase the best in house and techno.
City Hearts Festival takes place this weekend, November 9th and 10th at El Pueblo Historical Monument in Downtown Los Angeles. For tickets and more information, click here.
FOLLOW DESERT HEARTS
Facebook: facebook.com/WeAreDesertHearts
Twitter: twitter.com/DesertHearts
Instagram: instagram.com/deserthearts
Soundcloud: soundcloud.com/desert-hearts-records