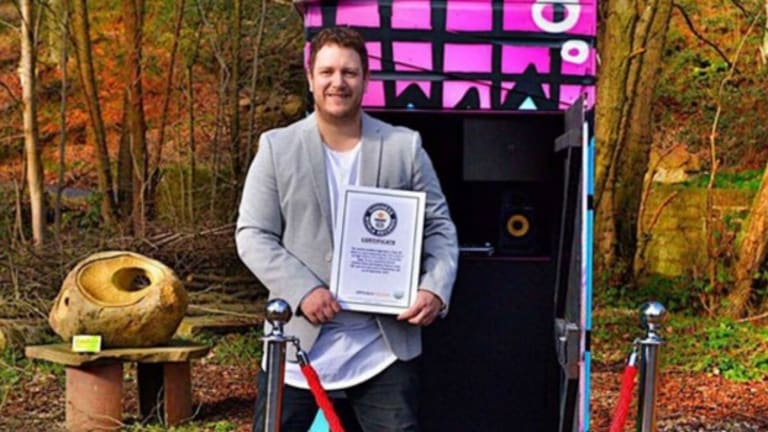 There's a New World Record for the Smallest Mobile Night Club
Club 28 recently broke the Guinness World Record for the world's smallest nightclub.
We can't all do great things, but what we can do is try to do the little things in a great way!
And well, that's exactly what these two Brits by the names of Gerard Jenkins-Omar and Stephen Robson did! Last fall, they set up the Guinness certified 'Smallest mobile night club' in the world at the Rotherham Carnival in South Yorkshire, England. In all it's glory, the venue was 6 ft. 7 in. high, 3 ft. wide and 5 ft. deep with the capacity to accommodate 6 party goers (at a squeeze) and the DJ at a given point of time.
Created out of a second hand shed small enough to break the previous record, Club 28 was born with the assistance of a handyman from the carnival.
At the whooping entry cost of 50 pence or $0.60, yYou move in through the door and past the bouncer (Yes! You read that right) for a complete experience with a full fledged sound system, 2 turntables, a microphone, a disco ball of course and dynamic lights to set the mood right. To keep the grooves going, they had Sam Cawley (aka DJ Sam Hudson) a house DJ, along with Rotherham local, Dangerous Nile. Patrons danced to a mix of old school house music and current hits by the likes of Kygo for what Jenkins-Omar says was an "all around disco feel... with a feel-good upbeat tempo."
Explaining the reason and thought behind Club 28, Jenkins-Omar wrote in their title application to the Guinness World Records:
"We decided to break the record as part of bringing something fun and different to Rotherham. The town has suffered from a lot of negativity in recent years so we are actively looking at ways to improve the 'good feeling' in the area and improve arts and culture whilst engaging local people."
Jenkins-Omar also credited his mom for being the inspiration behind the attempt, as she used to – and still does! – buy him the Guinness Book of Records every single year since he was a child!
Since the record attempt, the exterior of what Jenkins-Omar calls a 'revamped musical shed', has been redesigned by street artist Marcus Method for a more trippy, arty look!
So, now you know where to head to make sure your next party is the hit you've always wanted it to be - www.worldssmallestnightclub.com!
Good things sure could come in small packages eh?