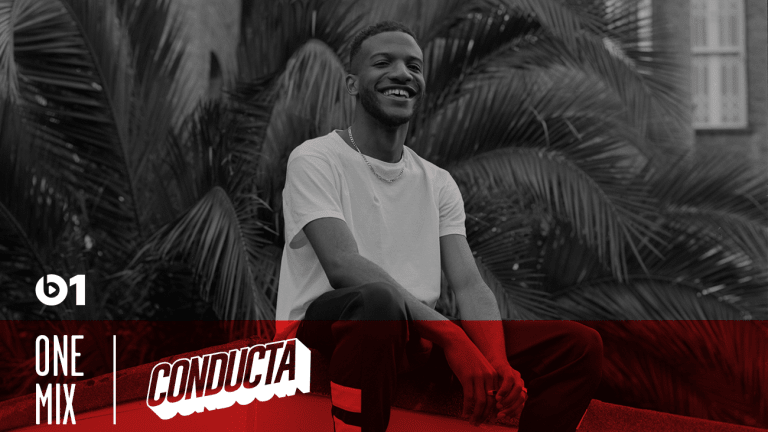 Beats 1 One Mix Hosts UK Garage Sensation Conducta For A Special Mix [INTERVIEW]
Some call him the Prince of UKG.
Dubbed the "Prince of UKG," Bristol native Collins Nemi has been stirring up the UK garage scene with his tasteful take on the genre. Better known by his stage name Conducta, inspired by one of his biggest influences Skepta, the 24-year-old has been making music since he was a teenager.
In fact, his first production, a grime track he made with two of his cousins, was played out on BBC 1Xtra by MistaJam! Only 15 years old at the time, Nemi was over the moon. The wild success of his first track was all the motivation he needed to pursue a solo career as Conducta. An academic enthusiast, however, he completed his university education at the renowned SOAS institute in London before taking on music full time.
For those unfamiliar with his sound, Conducta blends nostalgic R&B with rugged UK garage, making for a style that's all-encompassing; melodic, groovy, spirited and powerful. In essence, he captures the soul of R&B and expertly blends it with the high energy of UK garage. 
Naturally, UK garage legends MJ Cole and Artful Dodger are some of his biggest musical inspirations.
Get familiar with Conducta as he stars on Beats 1's weekly radio show, One Mix, this weekend. Expect music like his recently released smash hit "Only U," and an array of "garage bubblers" including a collaboration with Kano, a Jorja Smith mash up and remixes of Childish Gambino, J Hus and Goldlink.
Air dates: 
Friday 13th April 2018 - 23:00 LA / 02:00 NY / 07:00 UK
Sunday 15th April 2018 - 05:00 LA / 08:00 NY / 13:00 UK
Want to know a little more about the man behind the music? We got to ask Conducta a few questions before he took the decks. Read on for Conducta's thoughts on the biggest dance music misconception, the city with the most underrated dance scene, as well as interesting insights like his dream collaborator, guilty pleasure record and favorite throwback track.
EDM.COM: What was your first show experience? 
Conducta: Bristol at a place called Cosies. 17 years old, snuck out my house at midnight to make my set on a school night to play to about 15 people. Great night.
The artist who inspired you to become a musician?
Skepta. I semi copied his name & used to recite his clash vs devilman on my way to school.
Go-to places for new music?
YouTube & going to shows!
Guilty pleasure record?
The Ones - Absolutely Flawless (always drop this in sets still)
Desert-island dance record?
Armand Van Helden - You Don't Even Know Me. Perfect balance between being upbeat and mellow & I'd be pretty content stranded with this tune.
Dream B2B partner?
Have been blessed enough to have achieved one of my goals going b2b with DJ Fonti from Heartless. Next up is 100% DJ EZ then I think I might have completed garage.
Favorite BPM?
136 is probably my best to play at. I've been making a lot of music at 126-128 recently though.
Piece of gear you always need on the road?
Toothbrush. Have spent a silly amount leaving them at home or hotels.
All-time favorite festival?
Outlook (no disrespect to the other festivals I've played!). Vibe there was unreal despite the rain and thunderstorms. Really connected with the crowd during all my sets there & the atmosphere on the island is 2nd to none.
Biggest misconception about dance music?
That it's easy to become an overnight success! I think often think DJs have got to where they are relatively easy and overlook the journey most artists go through to get to where they are in their career.
How often do you get out and have fun, and where do you go?
Not enough! Usually I try and have as much fun as possible at the nights I'm playing.

Two nights in recent memory have stuck out. I went to see Kerri Chandler all night at Phonox & it was definitely one of the best nights of my life. He's one of my favourite DJs and played everything from soul & disco to garage. Was special moments when he played the garage remix of 'Gabriel' by Roy Davis Jr.

Another was at a club night called sofrito sound. Amazing vibe and amazing people running that night.
City with the most underrated dance scene?
Paris. Have been hearing some really cool house producers from across the tunnel! A guy called Bellaire really sticks out and he's only 19 years of age
Industry prediction for the next year?
Garage back in the charts this year!
Best piece of advice for new producers?
Always be careful in your output. Don't rush to put out music because everyone else is. Hone in on your sound, get it to a stage where it's distinguishable from others, then regulate your output by choosing quality over quantity.
Dead or alive, who would be your dream collaborator?
Ty Dolla Sign!! I'm gonna make this happen. Think us in a room would be game-changing.
What is one of the unique experiences you've had backstage?
I played on a crane which also doubled up as a club and a hotel at ADE. After my set we went up to the top of the crane where we were meant to bungee jump the next day. One of the scariest experiences I've had. (And nope... I didn't do the jump in the end)
A unique travel experience you've had?
I was on tour with Skrillex's label OWSLA and we were on tour bus which involved bunk beds which were exceedingly low in height. Anyway, I'd taken my rider to bed with me, woke up and the whole bed was wet. I couldn't believe it. I mean I was high the day before but to wet myself.. no way!?! After panicking and texting my manager, who was in the bunk opposite, I'd thankfully clocked the patron tequila had spilt everywhere & I hadn't done the unthinkable.
What's your favourite throwback track?
The Bomb - These Sounds Fall Into Mind. A really feel good song which always get me moving!
What's one track that fans always lose their mind to?
Another Level - Be Alone No More (Another Groove mix). Not once has this failed to make a crowd go nuts. Perfect balance of vocals and warping speed garage basses.
What was the first album you ever bought?
Pharell - On My Mind is my cool answer.

Blue - All Rise is my real answer.

Both great in their own right.
Name one remix that you think is better than the original?
Amy Winehouse - Fuck Me Pumps (MJ Cole remix). Original is amazing but MJ Cole remix sounds like an original tune. This remix has always been a benchmark in my production & I always aim to make a remix sound as if it was a garage track of its own.
What song would you want (god forbid) played at your funeral?
Kano - Nobody Don't Dance No more remix ft Katie Pearl. Would have this played in attempt to make sure was in a bubbly mood despite my notable absence.
What's the perfect sunset track?
Midnight Star - Curious. I could dance the night away to this track.
What song do you listen to cheer yourself up?
Chief Dr Oliver de Coque - Kano Gombe Special. This tune is the ultimate Nigerian party tune. Always makes me smile because reminds me of when me and my cousins used to queue in line at parties to collect food & getting annoyed at the uncles who pushed in line
His response to dance music's biggest misconception really struck a chord with us. 
With superstar acts like Martin Garrix and Marshmello, seemingly becoming stars overnight, people often forget that the rise to the top is often a slow competitive grind. The journey, usually filled with setbacks and road bumps, is usually shadowed by the glory and success, once attained.