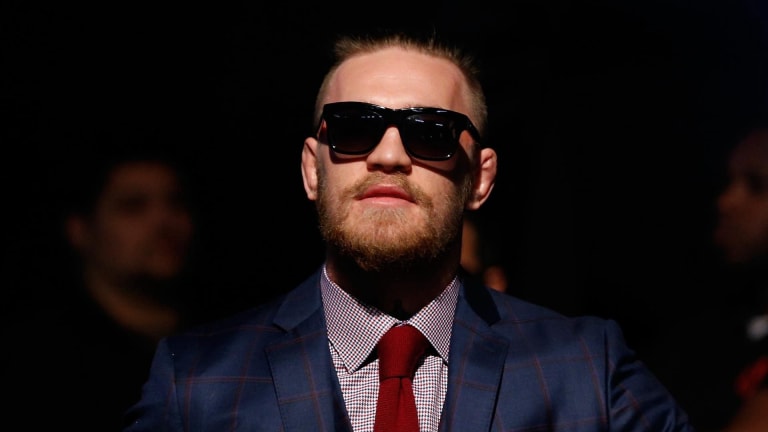 Watch a Clip of Conor McGregor DJing at Encore Beach Club
Apparently Conor McGregor is a techno guy...?
As if Conor McGregor wasn't already polarizing enough as figure in entertainment, this clip is sure to elicit mixed reactions from electronic music fans. The former Ultimate Fighting Championship (UFC) lightweight and featherweight champion was seen disc jockeying at Encore Beach Club (EBC) in Las Vegas two weekends ago.
Following UFC 229: Khabib vs. McGregor, the Irish mixed martial artist hosted a fight night after party called EBC at Night that took place at the Las Vegas hotspot on the evening of October 6th. In the below video, he can be seen behind the decks still swollen from his earlier bout as "Your Mind" by Adam Beyer and Bart Skils plays out over the club's sound system.
The Encore Beach Club event was by no means McGregor's first time in a DJ booth. Last year he made headlines for briefly DJing at a Grand National after party at Liverpool nightclub Mansion. "We've had lots of celebrities at the club but this has to be the biggest event we've ever been a part of in the six years we've been open," remarked Mansion promoter Michael Ellis.
The UFC fight that took place before EBC at Night sparked more controversy than almost any MMA match in recent memory. Shortly after beating McGregor, Khabib Nurmagomedov scaled the cage at the perimeter of the octagon and attacked McGregor's cornerman, Dillon Danis. After the ensuing brawl subsided, Nurmagomedov's payment for the fight was withheld by the Nevada State Athletic Commission.
Conor McGregor has made no public comments indicating that he plans to pursue DJing as more than a passive hobby.
Follow Conor McGregor:
Facebook: https://www.facebook.com/thenotoriousmma/
Twitter:  https://twitter.com/thenotoriousmma/
Instagram: https://www.instagram.com/thenotoriousmma/