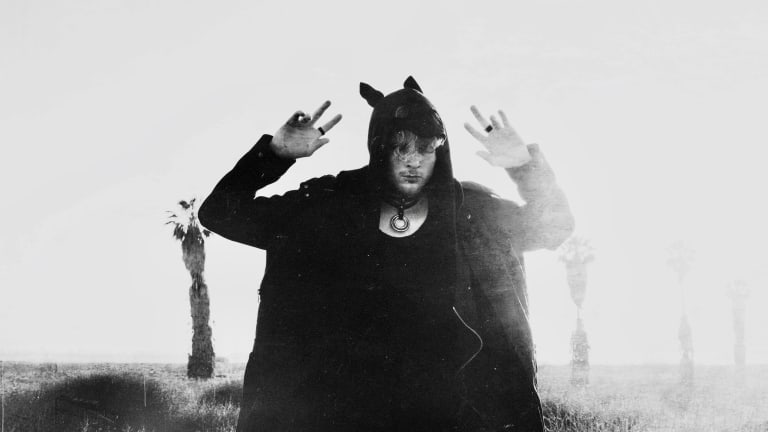 Crywolf Shares Experimental, Deep Cut "C E P H A L Ø T U S"
The Echo Park, California artist releases one of his most experimental songs to date.
In anticipation of a potential new album announcement, Crywolf has released yet another stellar single, "C E P H A L Ø T U S." The singer, songwriter and producer (real name Justin Taylor Phillips) has already put out a handful of singles in the second half of 2017. 
Aesthetically, "C E P H A L Ø T U S" - which is the name of a small carnivorous plant - continues on the path laid down by previous singles such as "F A L L Ø U T [antagonïzer]" and "Q U I X Ø T E [i am alone, and they are everyone]." It's dark and mysterious, yet it's one of Phillips' deepest cuts. Not following a traditional song structure, it starts off with a simple guitar riff under his laid-back, pitch-shifted vocals and progresses into a minimal, almost psychedelic atmosphere.
On the topic of "C E P H A L Ø T U S," Phillips has said:
The piece is an ode to self-annihilation. Engaging with something beautiful (the pitcher plant) knowing full well that it is going to destroy you. Not only accepting your fate, but actually reveling in every step of the dismantling. Allowing the entire process to be a rapturous applause.
Phillips has built a strong following over the years. He released his debut EP Ghosts and followed up with numerous projects, blending dubstep with unique songwriting and vocal work. Since his debut album Cataclasm in 2015, he showcases a more leftfield style that is less dependent on drops - garnering praise from fans and critics alike. 
Judging by his revamped visual aesthetic and presence, fans are likely to see a new project from Crywolf fairly soon. In the meantime, stream or download "C E P H A L Ø T U S" across platforms here.
Follow Crywolf: 
Facebook: https://www.facebook.com/RunCryWolf/
Instagram: https://www.instagram.com/runcrywolf/
Twitter: https://twitter.com/RunCryWolf
Soundcloud: https://soundcloud.com/crywolf