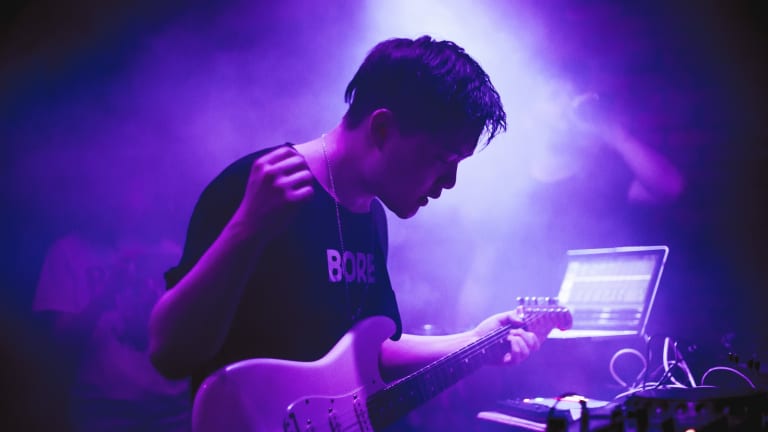 Dabin Defends Guitar Smashing, Says it's Part of Illenium's Show
He also said that special stage guitars are used for the smashing.
Dabin elicited the ire of music fans after slow-motion footage of him smashing a guitar onstage during Illenium's ASCEND Tour made its rounds. The Toronto producer and instrumentalist has addressed complaints of him being wasteful and potentially endangering fans with the stunt.
In the Reddit thread where the grievances first surfaced, Dabin (real name Dabin Lee) said Illenium (real name Nicholas D. Miller) wanted guitar smashing to be part of his stage show. "I'm just a part in Nick's performance and if his performance includes me smashing a guitar, I will oblige because it's what he wants in his show," Lee said. "If you've ever seen my own show, you know I'm not out here smashing my guitars."
Lee also said that the guitars he smashed weren't the same ones he used to perform. "We are given these guitars at every show for the sole purpose of smashing via either people donating them to be smashed, or a runner going out and finding one," he wrote. He also said that the stages where the stunt was performed were typically far enough away from the crowd for it not to be a safety issue, but told anyone who felt endangered to message him so he could bring it up to his team.
Lee and Miller will continue the ASCEND Tour with a performance at Arvest Bank Theatre At the Midland in Kansas City, Missouri on November 20th.
H/T: Your EDM
FOLLOW DABIN:
Facebook: facebook.com/dabinmusic
Twitter: twitter.com/iamdabinlee
Instagram: instagram.com/dabinmusic
SoundCloud: soundcloud.com/dabinlee
FOLLOW ILLENIUM:
Facebook: facebook.com/ILLENIUM
Twitter: twitter.com/ILLENIUMMUSIC
Instagram: instagram.com/illeniummusic
SoundCloud: soundcloud.com/illeniumofficial