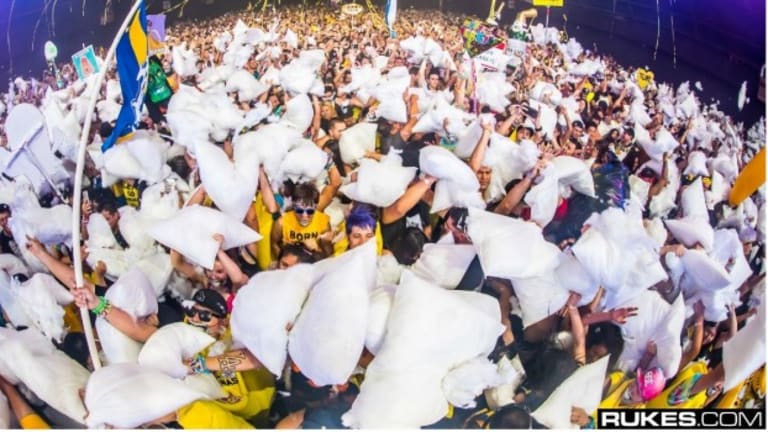 Dada Life are Taking Their Antics to a Whole New Level with The Compound Evolved!
Prepare to go BANANAS at Dada Life: Compound Evolved!
*sponsored content
Dada Life, the famed Swedish DJ duo made up by Olle Cornéer and Stefan Engblom, are headed to the Big Apple with a stellar stack of supporting acts in tow and we are positively stoked!
When it comes to Dada Land, as they say:
"There are no rules but the Rules of the Dada". And it looks like with this new concept of Dada Life Compound: Evolved, they're taking it one step further!
After a ton of success with their Dada Life Compound gigs in the past, including Compound: Evolved, they've really aimed at stepping up the immersive experience from doors till close. There's tons to look forward to at this series of shows, but talking specifically about the New York gig on May 20th, the line up has a huge role to play here too! With Seven Lions, Kill the Noise AND K?d as well as a headlining performance from Dada Life themselves, this has all the makings to be a sure shot banger!
Don't Forget to Scoop Your Tickets to Dada Life's Compound: Evolved Show at Brooklyn Warehouse!
We were lucky to have a quick chat with Dada Life who are making their way to Brooklyn Warehouse on May 20th and are bringing their much anticipated Dada Life Compound: Evolved concept with them! We 'Fed the Dada' some quick questions and here's what we got!
EDM.com: What it one thing that you'd tell the citizens of Dadaland who're attending that's DEFINITELY not to miss at Dada Life Compound: Evolved ?
Dada Life: The whole experience. We have worked hard on the feeling of entering Dada Land. It should feel as if you're leaving your ordinary life behind and entering something where everything is possible.

We're hearing about Golden bananas and fortune cookies and LOVE the sound of i! The Dada Life Compound: Evolved seems to be a very inclusive concept from what we're seeing of it. Tell us a little more about the thought process behind it heading into the Brooklyn Warehouse event on May 20th.
From the start of Dada Life we have always wanted to blur the line between the audience and the performer. We just want it to feel like we're one big dysfunctional family! And this is taking it even one step further.


You guys are running a contest to pick an opening act for your Cinco De Mayo, 'Dada land before time' at Red Rocks Amphitheatre on May 5th. What were your thoughts behind doing that?
Have you been to Red Rocks? ;) It's one of the most amazing venues in the world! We just had to create this competition. It's going to be one hell of a ride for one lucky person…

The Dada Land Compound: Evolved in NYC on May 20th is going to see the likes of Seven Lions, Kill the noise and K?d joining forces with you'll. We're absolutely stoked to hear this as each of them have their own diverse styles which happen to be very different from yours. What urged you to have such diverse supporting acts?
To be honest it's kind of boring hearing the same music the whole night. We rather have DJ's before and after us playing different music than ourselves. We like everything!
One of your more recent releases 'Red is the color of rage' is very different and rather deep compared to the other music you'll have released in the past, with it being all bass heavy and gritty. Is that going to be your new sound? A new direction your music is heading towards?
I don't know what kind of sound we have to be honest. With that song we just wanted to go back to old Dada. It sounds sort of as the music we did when we started. Our new songs? Come to the shows and hear them!
Dada Life are hands down known as some of the best party throwers in the music industry. How do you guys always manage to live up to the hype? It must be a rather tough title to keep right?
It's not only about partying. It's about living a Dada Life. And you can do that in so many ways. Just make sure you do everything with an open mind and with feeling. Don't listen to other people. They are wrong. Always.
What is your pre-gig routine? Any peculiar habits you guys have just before getting on stage? Where does ALL that energy to go 'bananas' come from?
Nope. Nothing. When the bass hits you in the first song you get all the energy you need...and add a few bananas and some champagne and you're good to go for hours.
Don't miss out on all the fun! Grab your tickets for Dada Life's Compound: Evolved Show on May 20th!