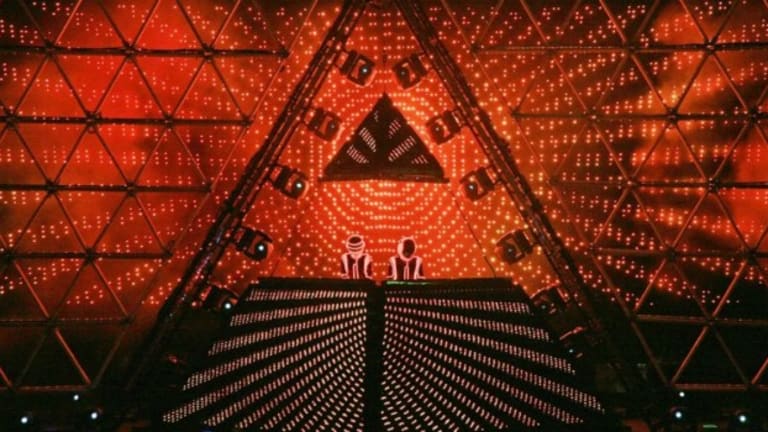 A Daft Punk Tribute Act is Recreating and Bringing Back the Iconic Pyramid Stage
Daft as Punk are bringing their 'A' game by recreating the iconic Pyramid stage at their next performance this October in Dublin!
More than half of 2017 has now officially passed and there has been no Alive 2017 comeback tour for its 10th anniversary, or for that matte, no Daft Punk tours or live performances AT ALL! Yup, our hearts wrench as we say this, but we might now have lost all hope of seeing the French geniuses perform live, at least for the rest of this year.
When an act as legendary as Daft Punk is on the scene, tribute acts aplenty are expected and eminent. While around the United States, One More Time are pretty well known,but Daft as Punk from Ireland, however, are all set to up their game!
Daft as Punk have been on the scene since 2011, after what started off as the result of a random "brainwave after 8 pints of Guinness!" With every show featuring live visuals, up to a 2 hour live set AND perfect imitation custom made Daft Punk helmets, they provide quite a holistic experience as tribute bands go!
While the French legends gave us a reminder of their awesomeness now and then this year with the likes of "Starboy" and "I Feel It Coming", but for the most part they have been missing in action since forever! This Irish duo who came together as Daft as Punk have been keeping it coming and touring paying tribute to the legends while building up a healthy following from their shows along the way.
This year they're all set to turn things up a notch and are to be recreating a full size replica of the iconic Pyramid stage that Daft Punk used on their Alive tour in 2007 for their only Irish show this year in Dublin! However, as they themselves admitted,
"this is costing us an arm and a f**kin' leg but it is going to be a legendary gig for years to come."
The promising spectacular is scheduled to take place at The Button Factory in Dublin on October 20th, however they will be playing a late set after doors at midnight! Tickets are currently available for €30 after the Early Bird tickets have already sold out! If you're in or around Dublin this October, we'd definitely think you'd wanna grab the tickets to this here and relive the epic 2007 Alive tour, well at least as much as we can.
H/T: Mixmag