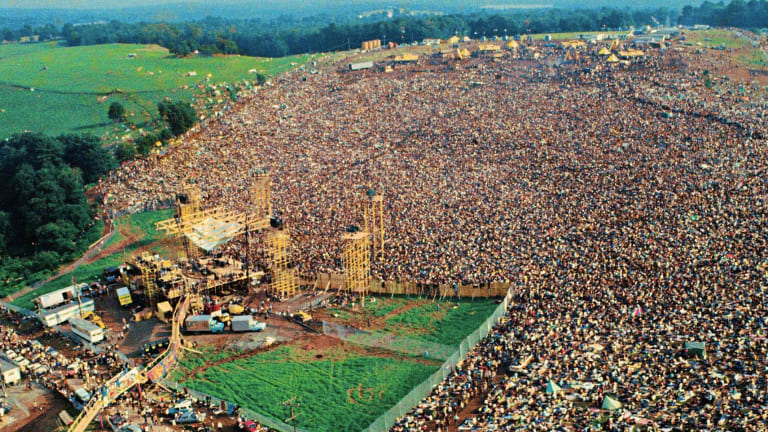 Daft Punk, Swedish House Mafia and Skrillex Proposed to Play Woodstock 50th Anniversary
Festive Owl has uncovered what appears to be a deck for Woodstock tribute event Journey On.
Amid speculations of a Woodstock 50th anniversary festival, perhaps the most concrete evidence has permeated to the masses. A document likely used to secure sponsorship for a Woodstock tribute event called Journey On has revealed tentative plans to bring a generation-bridging lineup to the site of the original event.
The Journey On deck arrives by way of lineup leak account Festive Owl, who have made it a point to disclose that the event "remains UNCONFIRMED." In addition to "classic/Woodstock heritage" acts like Neil Young and Carlos Santana, it groups artist into the categories "pop/rock/hip-hop/Latin," "country" and "EDM." The latter category includes such household names as Daft Punk, Swedish House Mafia, deadmau5 and Skrillex. 
Daft Punk fans probably shouldn't get their hopes up for the French duo's long-awaited return to the stage, however. The late Avicii has also found his way onto the proposed lineup - and even if the deck was made before his passing, he had discontinued touring in 2016.
When asked whether a 50th anniversary event would happen during an interview with the Poughkeepsie Journal, Woodstock co-founder Michael Lang said "We have definite plans." The 1969 festival drew over 400,000 revelers and made an immeasurable cultural impact.
The Journey On deck proposes that the three-day event would take place at Bethel Woods sometime in 2019. Its organizers have yet to make any official announcements at the time of writing.
H/T: Dancing Astronaut
Follow Woodstock:
Facebook: https://www.facebook.com/WoodstockMusicandArtFair/
Twitter: https://twitter.com/WoodstockFest
Instagram: https://www.instagram.com/woodstock/