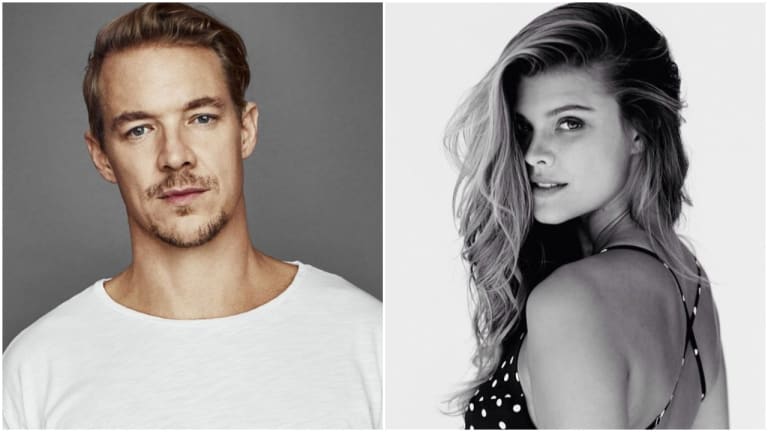 Dave Portnoy Pokes Fun at Diplo's Alleged Nina Agdal Fling in Barstool Sports Video
"I don't wanna say her name, because I would never say Nina Agdal's name..."
Diplo recently appeared in a Barstool Sports video to promote the debut edition of The Super Mega Ultra Giant Mad Decent Block Party Festival. He appears to have been put on the spot in regards to an unexpected topic, however. During a "Barstool Pizza Review" with Diplo (real name Thomas Wesley Pentz Jr.) as the special guest, Barstool Sports Founder Dave Portnoy took the opportunity to drudge up an encounter from years prior.
According to Barstool Sports Producer Frankie Borelli, who filmed Pentz and Portnoy's conversation, Pentz had absconded to a private room with Danish model Nina Agdal at the 2017 VIBES by Sports Illustrated Swimsuit festival in Houston. Borelli had allegedly followed them into the private room before Pentz accosted him and told him to leave.
Pentz declined comment on the incident with Borelli and Agdal, but made suggestive remarks about the broader scenario. "All I'm gonna say is that was a great party," he said. "All the Sports Illustrated models were definitely on MDMA, I think. That's how they were having a good time because it was a pretty weird party."
Barstool Sports has become well known sparking controversy - sometimes to the Milton, Massachusetts blog's detriment. As far back as 2010, Portnoy has elicited outrage for comments that his critics argue normalize rape culture.
Diplo's The Super Mega Ultra Giant Mad Decent Block Party Festival will take place on July 20th and 21st, 2019. Tickets and additional information can be found on the event website.
FOLLOW DIPLO:
Facebook: facebook.com/diplo
Twitter: twitter.com/diplo
Instagram: instagram.com/diplo
SoundCloud: soundcloud.com/diplo