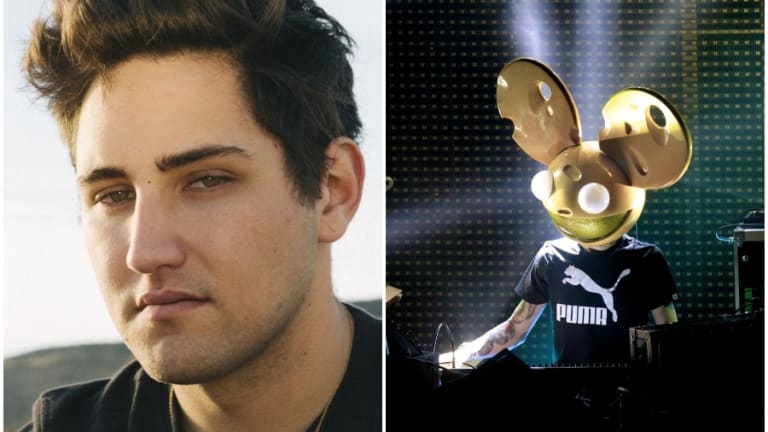 deadmau5 Donates $5,000 To Jauz' Charity Stream
The money will benefit the Make A Wish Foundation.
Yesterday, Jauz (real name Sam Vogel) took to Twitter to announce a charity stream that would benefit the Make A Wish Foundation, which the producer mentioned is a cause near and dear to him. The stream (hosted via Streamlabs) was set to last six hours at the least, and all donations received would be matched by Vogel himself. 
To Jauz' surprise, during the stream, a familiar face (or helmet) dropped in, and dropped a $5,000 donation. 
deadmau5' contribution brought the total donations received from $1,912 to $6,912 at the time he jumped into the stream. Jauz and his guests were enthralled to see deadmau5 (real name Joel Zimmerman) pop up and cause the total donations to triple. 
"Thanks, Joel," said Vogel. "Everyone give Joel some 'GG's, I'll take that one." He took to Twitter to share the moment in the stream when it all happened, and shared what Zimmerman had said to him: "Can't wait for the next Baby Shark remix."
Vogel teased a possible new mashup version of "Baby Shark" and the now immortalized "Strobe" by Zimmerman, but it's unclear as to whether that was in jest or not. 
Regardless, the Make A Wish Foundation received a massive donation from the two producers and all others involved in the stream, as Vogel will match all donations given. As he said in his tweet thanking deadmau5, "GG's for helping us raise money for @MakeAWish and da kids!"
FOLLOW JAUZ:
Facebook: facebook.com/JauzOfficial
Twitter: twitter.com/Jauzofficial
Instagram: instagram.com/jauzofficial
SoundCloud: soundcloud.com/jauzofficial
FOLLOW DEADMAU5:
Facebook: facebook.com/deadmau5
Twitter: twitter.com/deadmau5
Instagram: instagram.com/deadmau5
SoundCloud: soundcloud.com/deadmau5