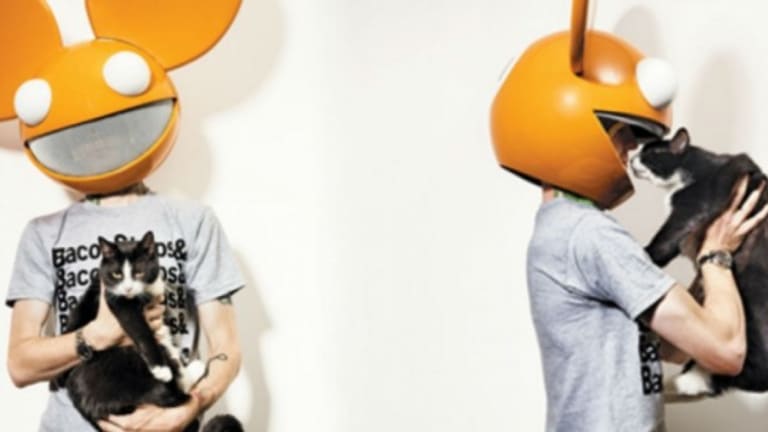 Deadmau5 Enters Legal Battle Over "Meowingtons" Trademark
The famous feline is the subject over a new legal dispute.
While most of us enjoy Joel Zimmerman for his music, coffee runs and obsession with lamborghinis, there's a portion of the community that is entertained by his no filter attitude and knack for online clashes with other entertainers. Whether you agree or disagree with all of Deadmau5's antics, we can all agree that this latest beef is one that hits him close to home.
Every fan of Deadmau5 knows of his affection for his beloved feline favorite, Meowingtons. So much so that he has an official Instagram account for his four legged friend. Mr. Zimmerman has taken great lengths to protect his cat's brand, going as far as to trademark the cat's name with the United States Patent and Trademark Office. While the application to trademark his cat's name was rejected, that's not stopping him from trying to keep others from using the name.
A Florida woman named Emma Bassiri runs a cat themed gift and accessory business called, you guessed it, meowingtons.com. Like Zimmerman, Bassiri has also taken the necessary steps to trademark the name "Meowingtons". This is where the plot thickens… When he first heard of this woman's business, Zimmerman petitioned the USPTO to stop Bassiri's application for the trademark.
Bassiri responded this past Monday with a lawsuit against Zimmerman on the grounds of trademark infringement and "unfair competition". Zimmerman claims that Bassiri is a fan of his music and got inspiration for her company's name from him. She has since denied Zimmerman's claim. As you can tell, it's turning into a literal "he said, she said" legal affair.
Zimmerman's attorney, Dina LaPolt, has released a statement in regards to this legal case. In the statement, LaPolt says that "deadmau5 has been extremely generous and attempted to resolve this matter amicably, however, as demonstrated by their legal action, they have no intention to address and remedy their intentional infringement and now attempt to extort and deprive our client of his rights and we will take all available measures to protect and enforce his rights."
While this case looks far from being resolved, nobody can dispute Deadmau5's love for his feline friend and the lengths he'll go to protect his brand. Oh, what a world we live in…