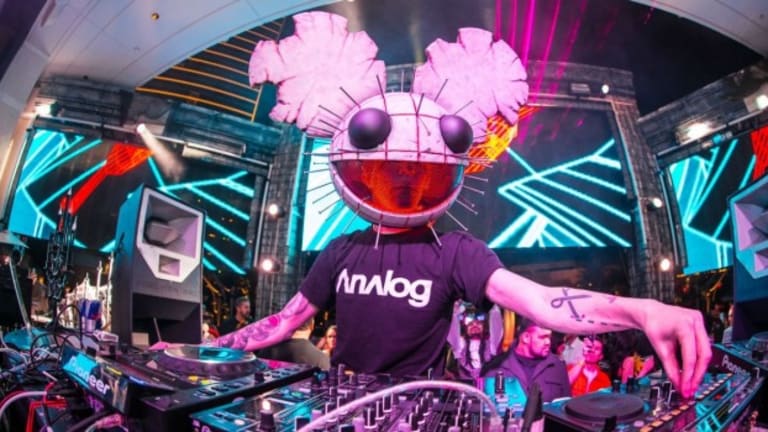 Deadmau5 Leads 'Lots of Shows in a Row' Tour With New Music
Before debuting the new Cube 2.1 stage on tour, Deadmau5 is releasing a new 'We Are Friends' compilation.
It's almost time for us to get to see the new beauty, Cube 2.1, in action later this week as part of the 'lots of shows in a row' kicking off in NYC! (Yup, Lucky us!)
Deadmau5's cube stage is easily one of the most iconic hallmarks of his brand. This year's incarnation of the famous cube literally moves with the music with added kinetic movement to the design giving each module its own xy motors so that deadmau5 can move individual parts of the cube to enhance the experience of the show. Going by all that we've seen of it yet, deadmau5's latest project is likely his most ambitious production to date.
Leading up to this tour, Deadmau5 has literally been spoiling us rotten with TONS of new music over the past few months. He started with W:/2016ALBUM/, then stuff i used to do, and now we're getting to hear 2 very different, almost polarizing songs from We Are Friends Vol. 6! As Joel himself had mentioned in Video 4 about Cube 2.1, how this tour would involve digging up a lot of old stuff, new stuff, and in-between stuff, to figure out what fits and doesn't fit for a fluid show. Hence the 2 new tracks come as no surprise.
The newly released "Polaris" and "Bad at Titles" as part of the We Are Friends: Vol. 06 are uniquely different from one another, yet perfectly embody everything that defines a classic Deadmau5 track. "Polaris," which Zimmerman has used as the opener for many of his previous sets, was previously named 'Crampy Bitch' prior to this release (Nope, not kidding!). It has a luscious and emotionally driven electric melody, but with an extra uplifting, almost ethereal feeling twist.
Zimmerman's collaboration with ATTLAS, "Bad at Titles" gives off a much heavier, techno based vibe with it's slow but captivating build up. It opens with an almost empty beat, forming a void of sorts that goes on to be filled after about 2 mins into the track. It's the kind of song that makes you move without even realizing, making you become one with it's in a way hypnotic beat.
Following in the footsteps of Daft Punk and Tiesto, Deadmau5 is set to launch the "lots of stuff in a store" in New York City. The pop-up, brought to fans in collaboration with Fancy.com, will be open this Friday and Saturday at 157 NW 24 St., from noon to 7 p.m. The store will feature tons of deadmau5 merch and will be decked out in high-end lighting and sound, so it truly becomes an audio-video experience as you browse. Trust Deadmau5 and Mau5trap to put out a memorable show for their pop-up as well! Find the official statement below.