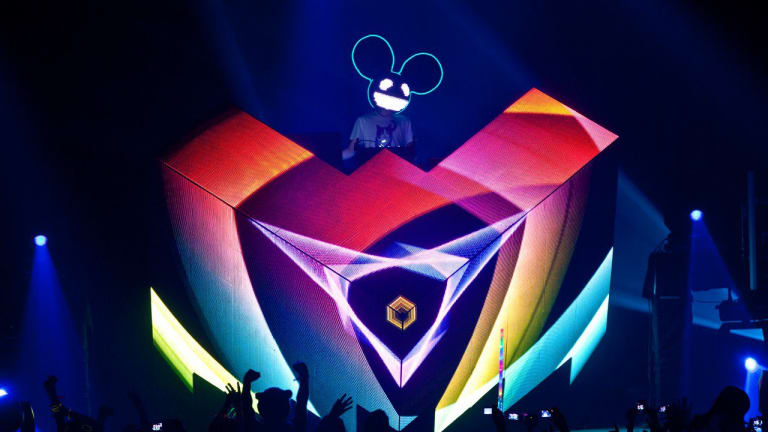 deadmau5 Shares Initial Rendering of Cube 3.0 Stage Concept
deadmau5 will debut the Cube 3.0 at Ultra Music Festival 2019.
Considering that he not only produces and DJs but also scores films and professionally games, it seems more and more like deadmau5 really can do it all. Adding even more dimension to his already multi-faceted brand is his Cube 3.0 stage concept - for which he's begun sharing early designs.
deadmau5 (real name Joel Zimmerman) streamed himself via Twitch tinkering with CG renderings of the Cube 3.0 using a design program called Derivative TouchDesigner. As can be seen in the 33-minute clip, the iconic DJ booth centerpiece will be framed by a curved LED wall in the back.
This won't be the first time Zimmerman has tried his hand at stage design by any means. He used the Unreal Engine to give fans a glimpse of the Cube 2.0 design back in 2016; the structure became operational the following year.
Zimmerman amassed a diehard following following the worldwide success of his 2008 effort Random Album Title. The EDM explosion catapulted him into the mainstream orbit a couple years later - but even today, he exercises a rare degree of creative control over his music endeavors.
deadmau5 is set to debut the Cube 3.0 at the 2019 edition of Ultra Music Festival in Miami. 
H/T: EDMTunes
FOLLOW DEADMAU5:
Facebook: https://www.facebook.com/deadmau5/
Instagram: https://www.instagram.com/deadmau5/
Twitter: https://twitter.com/deadmau5
SoundCloud: https://soundcloud.com/deadmau5