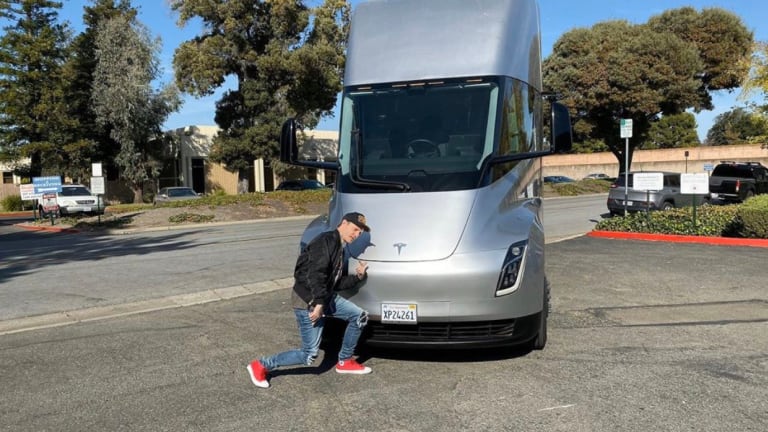 deadmau5 to Elon Musk: "Count Me In" for Tesla Semi Mobile Studio/Tour Bus
deadmau5 wants to be the proud owner of a Tesla Semi in 2021.
deadmau5 is no stranger to exotic vehicles, but acquiring a semi truck might still be uncharted territory for him. It's not just any semi truck, after all. The Canadian DJ producer has eyes on the Tesla Semi as a prospect for his next mobile studio and tour bus.
"Okay... this thing rips," wrote deadmau5 (real name Joel Zimmerman) in posts to his social media channels. "Count me in for the 2021 tour/mobile studio Elon Musk."
Electric car manufacturer Tesla unveiled their semi truck in 2017, touting its fuel efficiency and energy consumption. The Tesla Semi can go from 0-60 mph in 20 seconds, according to the Tesla Semi website, and its Enhanced Autopilot feature is designed to prevent head-on collisions.
It remains to be seen whether Zimmerman's tweet pointed to a more involved partnership with Tesla. Considering his staggering fan base, cross pollinating with his audience would certainly make it a mutually beneficial arrangement for the auto manufacturer.
Meanwhile, Zimmerman will continue touring with a performance at The Fillmore Detroit on October 17th.
H/T: EDMTunes
FOLLOW DEADMAU5:
Facebook: facebook.com/deadmau5
Instagram: instagram.com/deadmau5
Twitter: twitter.com/deadmau5
SoundCloud: soundcloud.com/deadmau5