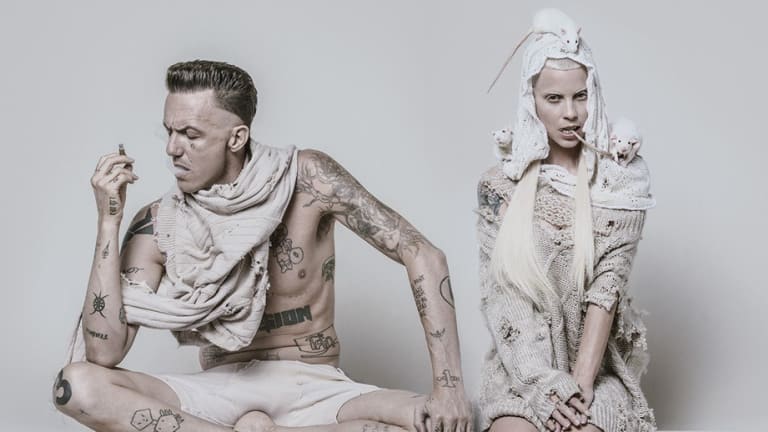 Die Antwoord Cameraman Denies Editing 2012 Assault Video
Ben Crossman gave his side of the story to EDM.com.
Die Antwoord have found themselves the subject of intense scrutiny after an apparent 2012 video of them physically assaulting and shouting homophobic slurs at Andy Butler of Hercules and Love Affair surfaced. Ninja (real name Watkin Tudor Jones) of Die Antwoord responded with a statement defending the duo's acts as retaliation for harrassment, prompting Ben Crossman, the cameraman who recorded the clip, to share his version of the story.

In an email to EDM.com Crossman said that the clip was not "cleverly edited," as Jones wrote in his statement. "The footage has not been doctored," he said. "Edwin from Edwins Generation on YouTube and Griffin the founder of Wat Kyk Jy both have the unedited clips and they can vouch that it is not doctored."
He did admit to participating in the assault of Butler, although not to the extent Jones had claimed. He told us that he grabbed Butler's head to try to restrain him and then Butler swung at him and tore his shirt, but he did not punch Butler.
He said that the duo's sound engineer, Diak Voigt, also attacked Butler, but Jones neglected to mention him in his statement. Shortly after the video emerged earlier this month Voigt had reportedly defended Die Antwoord online, only to be blasted for allegedly following the Instagram accounts of numerous teen and preteen swimwear models.
Crossman said that that the Yolandi Visser (real name Anri du Toit) of Die Antwoord had tricked him and into thinking that she had been molested by Butler, and that's why he joined them in attacking him. "My apologies go out to Andrew Butler," he told us. "I was utilized as a flying monkey by Ninja and Yolandi in this instance and for that I am not proud." He claimed that du Toit later told tour manager Tyson Royle, with whom they spoke at one point in the video, that she had fabricated the scenario.
Crossman speculates that Jones' claim that Crossman has been "malicious to his family" stems from an instance in which he confided in Jones that du Toit cheated on him. He told us he was close to their family but had a falling out with du Toit because of the incident, but that Jones had a "personal vendetta" against him since high school.
As for why he shared the video, Crossman said that he was inspired by Zheani's music video for "The Question," in which she detailed numerous instances in which Jones sexually abused her, threatened her, and shared explicit photos of her. "I realized I have an obligation and a duty to the victims of abuse to come forward with my footage," he said.
Andy Butler still has yet to publicly comment on the 2012 video or Jones' statement at the time of writing