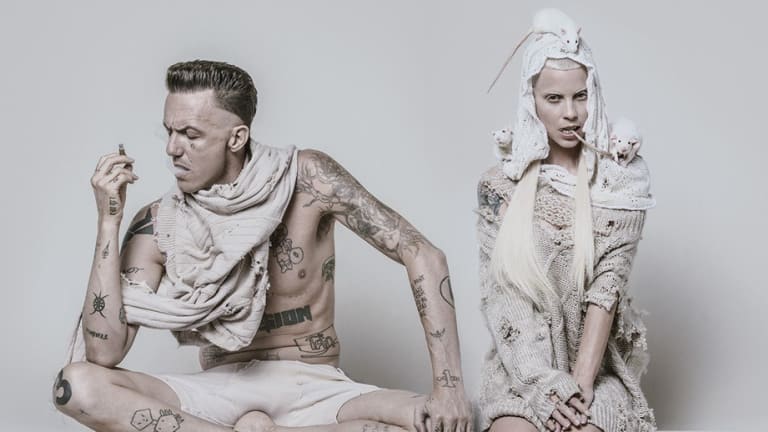 Die Antwoord Dropped from Festival Lineups After Video of Apparent Hate Crime Surfaces
The video was taken at the Adelaide stop of Future Music Festival in 2012.
A video purportedly from 2012 in which Die Antwoord appear to physically assault and shout homophobic slurs at Andy Butler of Hercules and Love Affair has surfaced online. In the weeks to follow, the South African duo have been removed from the lineups of the 2019 editions of Louder Than Life in Louisville, Kentucky and Life Is Beautiful Music & Art Festival in Las Vegas, Nevada.
The video, whose caption says that it was taken at the 2012 Adelaide iteration of Future Music Festival, appears to show Die Antwoord (real names Watkin Tudor Jones and Anri du Toit) antagonizing Butler, who is openly gay. In the beginning, Jones runs towards him and attacks him while Visser calls him a "f*****." After a scuffle, Jones instructs du Toit to pretend that Butler molested her, and she feigns tears as he tells passersby that version of the story.
This past week, the organizers of Louder Than Life and Life Is Beautiful disclosed that Die Antwoord was removed from each event's lineup. Those of the former event appear to have done so via Instagram direct message whereas the latter posted a statement to their Facebook page. Neither event's team has made any public comments suggesting that the cancellations were connected to the video.
Die Antwoord have come under fire numerous times since their 2008 inception for instances in which their controversial behavior appears to extend beyond their stage identity. Jones and du Toit have been accused of misogyny, homophobia, and appropriating indigenous South African culture.
A spokesperson on behalf of Die Antwoord was not immediately available to respond to EDM.com's request for comment.
UPDATE: Die Antwoord has issued a response to the video. Click here to view their response.