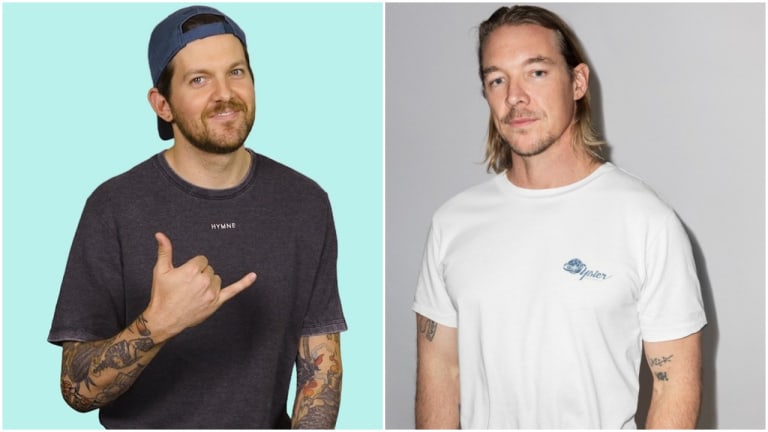 Dillon Francis Leads Diplo's EDC Orlando Audience in "Happy Birthday" Rendition from Screen
Diplo apparently hates having "Happy Birthday" sung to him on his birthday.
Revelers who arrived early to watch Diplo close down the Kinetic Field main stage at EDC Orlando 2019 were treated to a special surprise on Sunday night. Before the Mad Decent label boss cued up his first track, a video of Dillon Francis singing him "Happy Birthday" played out on the big screen.
Francis appears to have recorded himself beforehand and arranged to have the clip played before Diplo (real name Thomas Wesley Pentz Jr.) began his set. "If I know my best friend like I think I know my best friend, he hates when people sing him happy birthday on his birthday," Francis says in the video. "So we're gonna do it right now, and we're gonna do it like cowboys, okay? Because he's my best friend cowboy."
Francis wasn't the only one to utilize onstage LED screens for mischievous purposes at this year's EDC Orlando. The previous day, ATLiens displayed the phrase "Epstein didn't kill himself" at the end of their own set.
Pentz and Francis also recently staged a prank in which the former artist appeared to have shared the latter's phone number via a Hollywood billboard.
FOLLOW DIPLO:
Facebook: facebook.com/diplo
Twitter: twitter.com/diplo
Instagram: instagram.com/diplo
SoundCloud: soundcloud.com/diplo
FOLLOW DILLON FRANCIS:
Facebook: facebook.com/dillonfrancismusic
Twitter: twitter.com/DillonFrancis
Instagram: instagram.com/dillonfrancis
SoundCloud: soundcloud.com/dillonfrancis