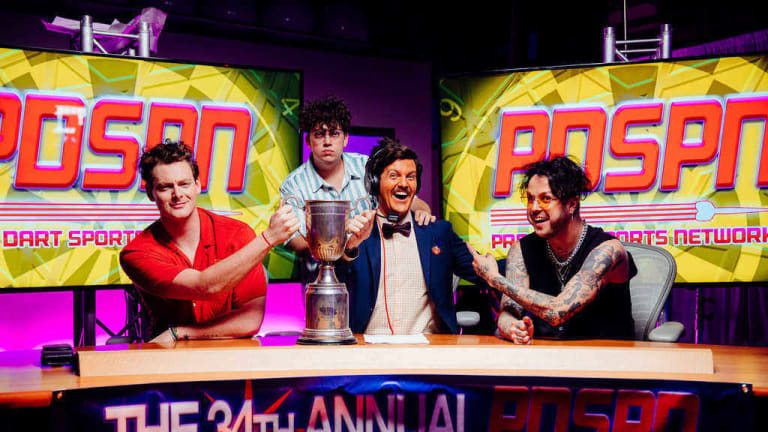 Dillon Francis Releases Outrageous Video for "Change Your Mind"
It's just as Dillon Francis-y as you'd expect.
EDM superstar and resident goofball Dillon Francis has just released the music video for his collaboration with lovelytheband, "Change Your Mind." The feelgood, midtempo track's video is not really related to the content of the lyrics or the song, but damn if it isn't great. 
In a very Dodgeball-esque style, Dillon Francis appears in the video as a commentator at the "Tournament Of The Flowers," a darts championship. We are introduced to some pretty zany characters and funny lines, as the two competitors nail their shots with precision. One of them pulls a scumbag move, but good prevails and the protagonist, Maddie Gilmoore, wins the tourney. 
Indie rock outfit lovelytheband, who lent vocals and instrumentals to the track, also appear in the video, performing at the "halftime show" of the darts tournament. The band was recently crowned iHeart Radio's Best New Alternative Rock Artist. 
Everything about the music video is precisely what viewers and fans would expect from Dillon Francis. The humor and production of the video are all in tune with previous Francis features, and the lighting and color schemes reflect the music well. 
Fans have been anticipating this video since "Change Your Mind" was released back in late March, and it certainly delivered. 
Follow Dillon Francis:
Facebook: facebook.com/dillonfrancismusic
Twitter: twitter.com/DillonFrancis
Instagram: instagram.com/dillonfrancis
SoundCloud: soundcloud.com/dillonfrancis