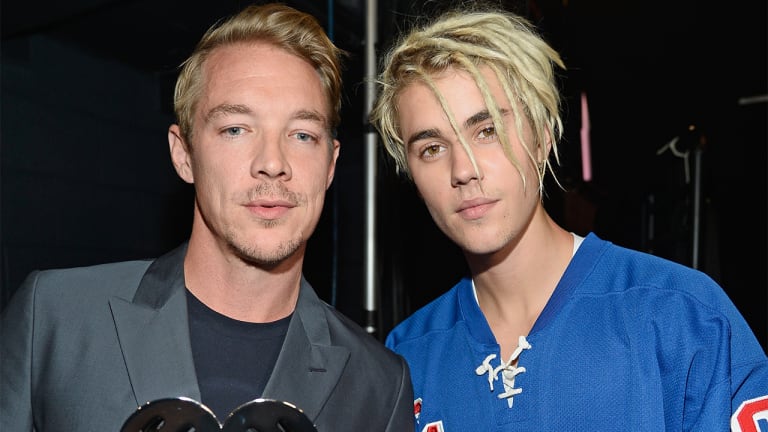 Diplo Gives the Finger to Major Labels for 'Bank Roll' Takedown [LISTEN]
Middle fingers high from Diplo to the major labels.
The music industry can be a grueling field to work in.
It's flooded with a lot of talented people (and not so talented people). But there's one more ruthless fact: it's monopolized by three major labels: Universal Music Group (UMG), Sony Music Entertainment, and Warner Music Group (WMG). These are the three most powerful and largest labels in the world, and they have a chokehold on pretty much everything about the industry, including the artists. In fact, they're the ones often behind the copyright "strike downs" on YouTube and SoundCloud. Unfortunately, Justin Bieber was the latest high profile act in the crossfire.
Back on May 11th, 2017, Diplo released a track called "Bank Roll" that featured major artists like Young Thug, Rich Chigga, Rich The Kid and, of course, Justin Bieber. Within a matter of three days, "Bank Roll" was wiped off of the streaming services with no traces of it even existing. That changed today, though. Diplo re-uploaded "Bank Roll" on SoundCloud but with one major difference: Justin Bieber is no longer on the track. In the description of the track on SoundCloud, Diplo states:
Other artists made SoundCloud take down the Justin Bieber version because they had exclusives with him. You can find it online here. [Because 'f**k you.']
Diplo gave those artists (and labels) the middle finger by providing the version with Justin Bieber for a free download in the track's description.
This is a similar situation to Jack Ü, a duo composed of Skrillex and Diplo. According to Billboard, Diplo states in a Q&A that "The thing with Jack Ü is complicated because of Atlantic. Skrillex is signed to that label, and it's difficult to do anything with that. I hate major labels, so I don't really want to do anything with major labels. So it's hard." In laymen's terms: Atlantic is preventing Skrillex from working with Diplo to produce new Jack Ü content, and vice-versa, due to exclusivity agreements.
Will a major label mutiny ever take place? The future looks not so good.In the meantime, give "Bank Roll" (ft. Rich The Kid, Rich Chigga, and Young Thug) a listen via Diplo's SoundCloud below.