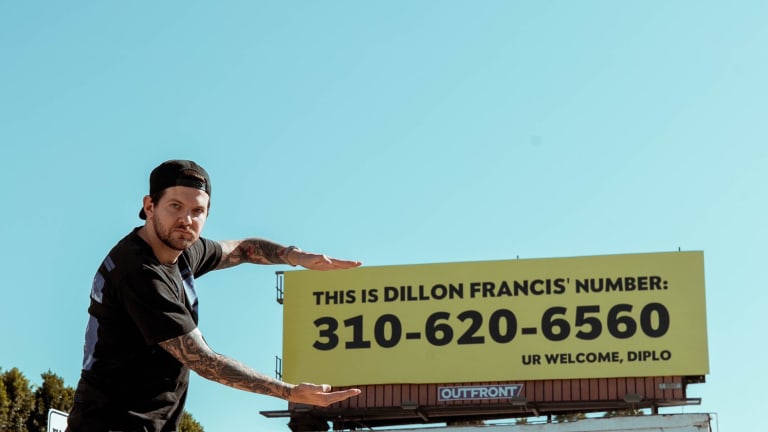 Diplo and Dillon Francis Stage Billboard Prank as Guerilla Promotion
Diplo pretended to put Dillon Francis' phone number on a billboard.
The Chainsmokers and Illenium leveraged a platform called Community to generate buzz around the release of their collaboration, "Takeaway," back in July. Diplo and Dillon Francis have followed suit, but in the more tongue-in-cheek manner you might expect from the two DJ/producers.
A phone number purportedly belonging to Francis recently appeared on a Hollywood billboard apparently rented out by Diplo (real name Thomas Wesley Pentz Jr.). Francis himself encouraged fans to text the number, and when they do they're added to a contact list via Community. 
Unlike the aforementioned promotion by Illenium and The Chainsmokers, however, Pentz and Francis' stunt does not immediately funnel users to an individual announcement. Whether it precedes a collaboration or other kind of announcement from the two artists remains to be seen.
Francis has been a well-known class clown of the EDM scene throughout his career, and Pentz' himself has a penchant for abrasive behavior. In more recent memory, the two performed a back-to-back set at the 2018 edition of HARD Summer in Fontana, California.
Fans of Dillon Francis can connect with him themselves via Community by texting (310) 620-6560.
FOLLOW DIPLO:
Facebook: facebook.com/diplo
Twitter: twitter.com/diplo
Instagram: instagram.com/diplo
SoundCloud: soundcloud.com/diplo
FOLLOW DILLON FRANCIS:
Facebook: facebook.com/dillonfrancismusic
Twitter: twitter.com/DillonFrancis
Instagram: instagram.com/dillonfrancis
SoundCloud: soundcloud.com/dillonfrancis