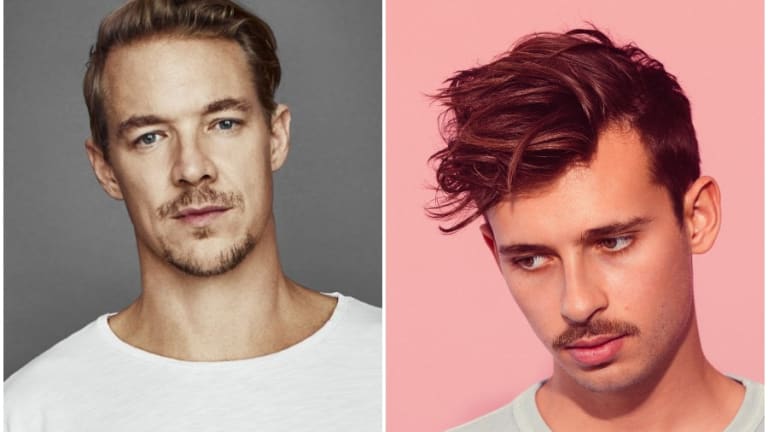 Diplo and Flume Played an Unconventional Event Called Secular Sabbath
The duo played ambient music at the event in Desert Hot Springs, California.
Just down the road from Coachella in Indio, California this year, Secular Sabbath was held. A place to get some rest and relaxation after an event as intense as Coachella, Secular Sabbath is more of a "spa" - meant for deep sensory experience and introspection, rather than partying in a festival setting. 
EDM titan Diplo was the latest to play at the event series. Joined by superstar Flume, the duo played some music at Secular Sabbath, but not the type you'd expect. Reserving chilled out, ambient beats for this experience, Diplo and Flume played out at an event where people were hanging out in hot tubs and meditating. 
Diplo even got in on the (in)action, telling Rolling Stone, "It was a blast. I got to sit in a hot tub, I took a nap – there was great stuff going on all at the same time. And I got to play some cool music and I loved it. It's good to try new things" 
That nap must have been well-deserved after his Coachella and Stagecoach performances over the last few weeks, not to mention the launch of Diplo's "country" side project, Thomas Wesley. The man is undoubtedly always trying new things. 
H/t: Dancing Astronaut
Follow Diplo:
Facebook: facebook.com/diplo
Twitter: twitter.com/diplo
Instagram: instagram.com/diplo
SoundCloud: soundcloud.com/diplo
Follow Flume: 
Facebook: facebook.com/flumemusic
Twitter: twitter.com/flumemusic
Instagram: instagram.com/flume
SoundCloud: soundcloud.com/flume