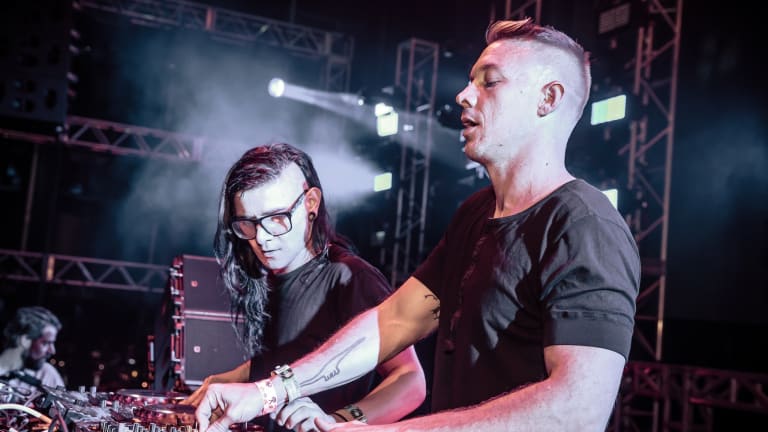 Will 2020 be the Year Jack Ü Returns?
Diplo spoke to Rolling Stone to tease us once again.
After three years of teasing for the return of Jack Ü, - the beloved collaboration between Diplo (real name Thomas Wesley Pentz Jr.) and Skrillex (real name Sonny Moore) - fans may finally be able to breathe a sigh of relief to know 2020 could be the year. 
In an interview with Rolling Stone for the publication's 2020 Grammy Awards preview coverage, Pentz got into the rumors behind the return. With the amount he's been talking about this over the years, it's clear no one is more excited about the potential of new Jack Ü music than he is.
"Could be next year. I think Skrillex has a lot of material he's been gearing to release," he said. "When that happens I think we might be able to do some new stuff, but I've worked on a lot of ideas for the project. It's all in due time. There's not any rush for it or anything."
Earlier this year, Moore took to Twitter to share a string of vague tweets explaining that his time off has been used to work on his friends' albums and, more importantly, on himself as a person.  To the joy of many, he did make a point to let us know that he is beginning to go full force into his own work. No more information has been given as to when this project will see the light of day.
As Pentz stated in the interview, they clearly are not in a rush. He has kept himself busy these past three years with numerous other side projects. Major Lazer, LSD, Silk City, and now his country alias Thomas Wesley have all occupied much of his production time throughout the years, among countless other releases made under his original Diplo moniker. 
Jack Ü was formed back in 2013 with the release of "Take Ü There." They followed that up the next year with "Where Are Ü Now" featuring Justin Beiber and took home the Grammy for Best Dance Recording in 2015. The duo officially disbanded back in 2016. 
H/T: Your EDM
FOLLOW DIPLO:
Facebook: facebook.com/diplo
Twitter: twitter.com/diplo
Instagram: instagram.com/diplo
SoundCloud: soundcloud.com/diplo
FOLLOW SKRILLEX:
Facebook: facebook.com/skrillex
Twitter: twitter.com/Skrillex
Instagram: instagram.com/skrillex
SoundCloud: soundcloud.com/skrillex