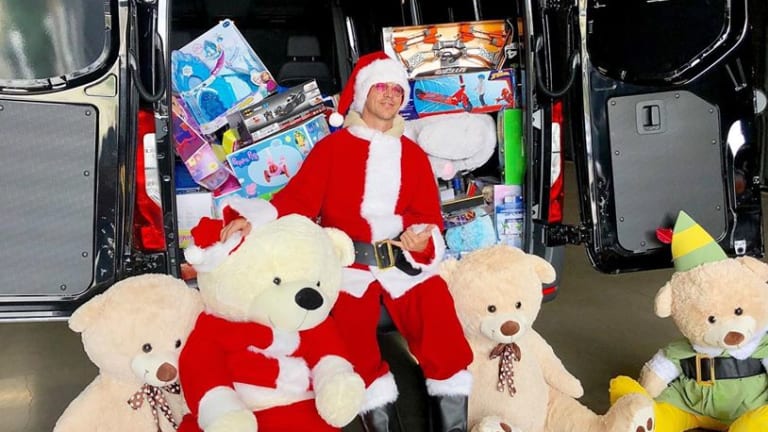 Diplo Presents Thomas Wesley's 1st Annual Holiday Toy Roundup with Trina's Kids Foundation
Join Diplo by donating gifts and clothes to children in need this season.
Diplo (real name Thomas Wesley Pentz) is adding yet another moniker to his already lengthy list of aliases. This year you can also refer to him as Santa Claus. The Grammy award-winning artist is joining forces with the Trina's Kids Foundation to host Thomas Wesley's 1st Annual Holiday Toy Roundup. Check out the call to action below, and bring down new toys or gently used clothes to Hubble Studios in Los Angeles, California from now until Saturday at 1:00 PM. 
The holiday season is a stressful time for many. This charity drive is an amazing way to ease the weight for families out there in need of a helping hand. The foundation will present two toys each to 350 kids in the Downtown Los Angeles area. 
It's always uplifting to see stars of Pentz' caliber using their platform for the better good. By lending his name to the foundation's sixth annual Gift-Giving Holiday Party, there's no doubt the influx of gifts will be higher than ever. 
Trina's Kids Foundation is a 501(c)(3) non-profit organization founded by Vince Ricci. The young entrepreneur started the organization in his mother's name to help poverty-stricken children overcome the challenges they face by working with funding programs and residential services set up in the Los Angeles area. This gift-giving initiative is just one of many projects they work on throughout the year to help positively impact the community. 
For more information on Trina's Kids Foundation, visit their website here and learn how to give back. 
If you are not in the Los Angeles area, fear not. You can still help give back by purchasing toys through their Amazon Toy Drive Wishlist. 
FOLLOW DIPLO:
Facebook: facebook.com/diplo
Twitter: twitter.com/diplo
Instagram: instagram.com/diplo
SoundCloud: soundcloud.com/diplo