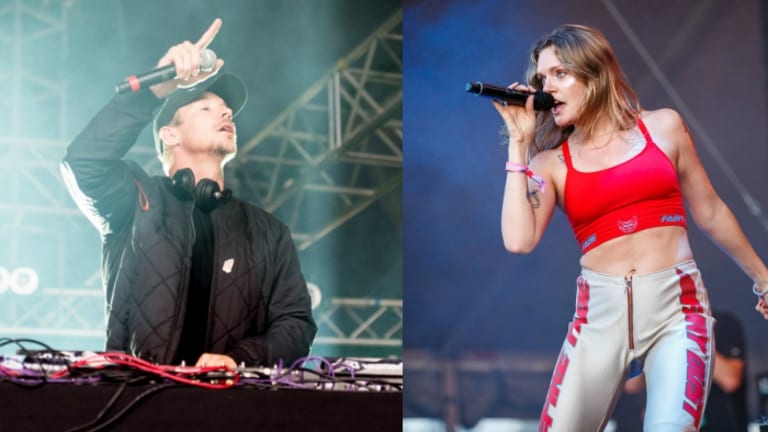 Sirius XM Radio Will Drop World Premiere of Diplo And Tove Lo Collab Tomorrow
"Higher Ground" will arrive on Channel 51 at 10:00 AM.
This just in, the global superstar known as Diplo (real name Thomas Wesley Pentz Jr.) and the Swedish badass known as Tove Lo (real name Ebba Tove Elsa Nilsson) have linked up yet again on a new track called "Higher Ground." Sirius XM Radio announced its world premiere on Channel 51. Tune in at 10:00 AM EST to catch the drop. 
Though we know nothing of the song yet, the two previously have collaborated through Pentz' supergroup Major Lazer on the track "Blow Smoke." This is a big week for the famed producer as he is debuting both this new track and his new country music alter ego, Thomas Wesley, at Stagecoach: Late Night in Palomino performance. 
Nilsson's last solo release was BLUE LIPS (lady wood phase ii) which dropped last year. She has been featured on tracks by Flume, Seven Lions, and Alesso. Her voice works as the perfect addition to electronic music so this new track is sure to be fire. 
FOLLOW DIPLO:
Facebook: facebook.com/diplo
Twitter: twitter.com/diplo
Instagram: instagram.com/diplo
SoundCloud: soundcloud.com/diplo
FOLLOW TOVE LO:
Facebook: facebook.com/tovelo/
Twitter: twitter.com/ToveLo
Instagram: instagram.com/tovelo/
SoundCloud: soundcloud.com/tovelo