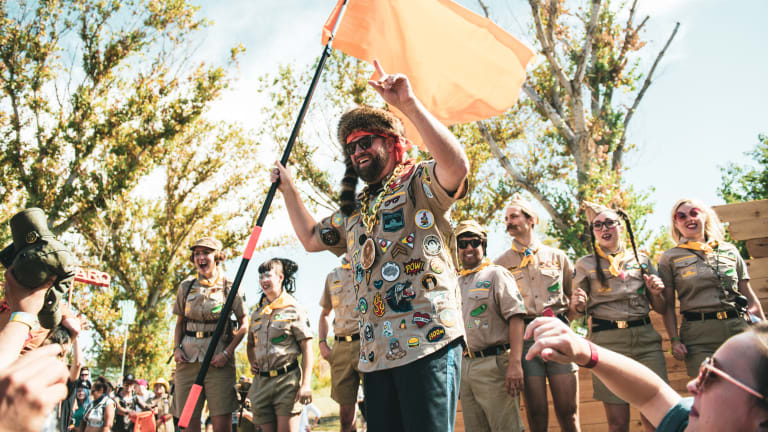 Dirtybird Reveals Lineup For 2019 West Coast Campout
The festival returns to the Modesto Reservoir in October
Head Counselor Claude VonStroke and the rest of the Dirtybird crew have announced the roster of artists that will join them at Dirtybird Campout 2019. After a successful year at the Modesto Reservoir Campgrounds, the festival will return to the Central California locale for another edition of the ultimate adult summer camp.
Joining them in the migration to Modesto will be some of the biggest names in house, techno, bass and hip-hop. The diverse flock of artists include Will Clarke, Walker & Royce, VNSSA, Wyatt Marshall, Sage Armstrong, Claude VonStroke, Mija, Rybo, Lubelski, Ardalan, Christian Martin, Redlight, Justin Martin, Jhene Aiko, Gettoblaster, and Shiba San. 
The lakeside setting found at the Modesto Reservoir allows artists and campers alike to partake in a wide array of games and activities throughout the weekend. Amongthem are boat and .5K Floatie races, swimming, tug of war, dodgeball, totem making, screen-printing, and tie-dye.
According to the Dirtybird team, this year's edition is expected to see some major upgrades. Some of which include better sound quality at the Birdhouse Stage, a new layout for easier journeys between sets, and guaranteed premier camping spots for early arrivals.
The biggest change of all will see the loss of The Bunkhouse in favor of a new and improved Claude's Cabin. Poised to be a sanctuary of laughter and stupidity, the cabin will host popular YouTube show, "The Stroke Show," as well as talent shows, beatboxing competitions, pie eating contests, rainbow drag shows, deep house yoga, and speed dating. 
The 2019 edition of Dirtybird Campout West Coast returns to the Modesto Reservoir Campgrounds October 4th-6th. Tickets, camping packages, and general info can be found here.
Follow Dirtybird Campout:
Facebook: facebook.com/dirtybirdcampout
Twitter: twitter.com/DirtybirdCamp
Instagram: instagram.com/dirtybirdrecords